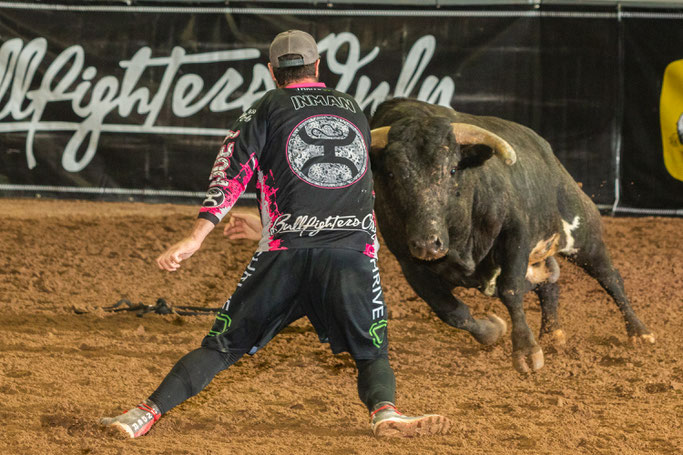 Inman outlasts Moorman
BFO veteran takes top prize at Barrett-Jackson Invitational, wows new fans
SCOTTSDALE, Ariz. – When Toby Inman looked to his right, he saw a young man half his age.
Inman is a veteran freestyle bullfighter, and Chance Moorman is less than a year into his career. Both were in the mix for the championship during the Bullfighters Only Barrett-Jackson Invitational this past weekend at Barrett-Jackson's famed Scottsdale Auction.
"I joked around with him that he wasn't supposed to be this good already," Inman said of Moorman, just 18 years old from Lytle, Texas. "But he is, and he just goes out there and does it. It's a good thing, and it shows it's not just the veterans stepping up and doing some tricks."
That's true, but the veteran Inman walked away from Scottsdale with the victory and the $10,000 top prize to take the early lead in the 2019 Bullfighters Only Pendleton Whisky World Standings. He finished with a three-fight cumulative score of 259 points, just half a point better than Moorman.
"I was actually thinking about taking January off when I found out about this event," said Inman of Davis Junction, I'll. "Coming off Vegas, I was sore and out of shape.
"But this is a good start. Last year, I got a good start, then I had injury after injury. It's actually hard to get in shape when things are going like that."
The Barrett-Jackson Invitational is new on the schedule, but it was a true showcase event. While Inman and Moorman took the top two spots, they were followed by three cagey veterans: Kris Furr, Ross Hill and three-time reigning world champion Weston Rutkowski.
Though he got the silver medal, Moorman may have been the biggest showman of the bunch. He won the second round with a 90.5-point bout, the highest of the three-round competition. He started it by landing a perfect front flip over the bull, clearing the animal from head to tail.
"That second round was probably the best day of my life," Moorman said. "I've been close before, but I've never been able to break that 90-point barrier. I landed the cleanest front flip I've ever done. That was awesome.
"I fought to the best of my ability and did the best that I could."
Maybe the highlight was when the three-time world champion took a light-hearted approach with Moorman's father.
"Weston went up to my dad at the end of the event and told him that it's too early in the year for me to be doing stuff like that," Moorman said. "That's a big confidence booster to me, to have my idol say something like that."
By winning the title, Inman pocketed $10,000, Moorman earned $4,000, and Furr, a second-year pro from Hamptonville, N.C., scored $2,000. They are the top three in the Pendleton Whisky World Standings with one event under their belts.
"I need to stay consistent and put consistent fights on throughout the year. I want to keep doing what I'm doing and try to finish toward the top."Moorman said.
Inman knows that feeling. He's been one of the best freestyle bullfighters going for most of his career. In 2018, he led the BFO standings much of the season before injury caused him to fall behind and finish third overall.
Of course, kicking off the season with a big win in Scottsdale was just what the doctor ordered.
"I'm not a big car guy, but to see that auction in person was such an amazing thing," he said. "I'm pretty sure we've got a ton of new fans. That was a cool event to be part of, and I'm glad we got to be there to see that and for them to see what we do."
They not only saw some outstanding action from the veterans in the game, but they witnessed just what the rising stars can do, too.
"Chance is doing things that's going to make everybody step up, and so are the others," Inman said. "We have to have the new guys that can do that and keep it intense. That's better overall for the sport."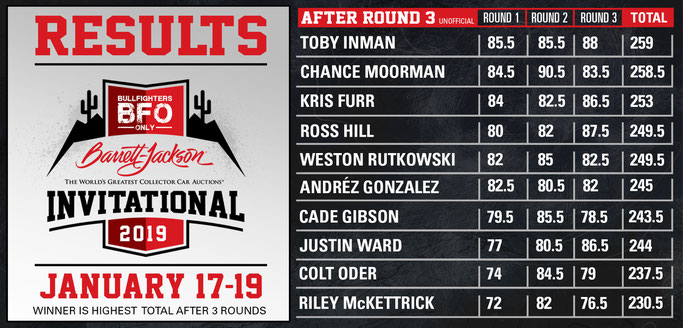 ---
BFO is raging in to 2019
Top bullfighters in  the mix at inaugural Barrett-Jackson Invitational
SCOTTSDALE, Ariz. – The pounding hooves of a Spanish fighting bull can sound like thunder. It can be breathtaking and devastating at a moment's notice.
This is the Bullfighters Only Barrett-Jackson Invitational, which takes place in conjunction with the famed Scottsdale Auction. The fiercest bulls and the most talented freestyle bullfighters in the game will match their skills together at 7:30 p.m. Thursday, Jan. 17-Saturday, Jan. 19, at the WestWorld Equidome in Scottsdale.
"The people in Scottsdale should expect to see the most action-packed sports show they've ever seen," said Weston Rutkowski, the three-time reigning world champion from Haskell, Texas. "You've got the best bulls and the best bullfighters in the country. When you put those two together, you're going to see the best show you've ever seen."
Rutkowski knows better than anyone the rough-and-tumble game that is freestyle bullfighting. He will be one of the combatants this weekend, and he's just a month removed from facial fractures he suffered during the Las Vegas Championship, the BFO's grand finale.
But there's so much more to the game than that. One minute, it's a ballet in the dirt, with the speedy and agile bull as the aggressor and the bullfighter utilizing dancer-like steps and leaps to counter every move; the next minute, it's a wreck, with the dangerous hooves and horns taking control of the match.
"This is going to be a show unlike any other," said Chance Moorman, one of several top bullfighters who finished their rookie seasons in the BFO in 2018. "The people love the adrenaline factor and the action that happens. You don't know what's going to happen when that bull breaks into the arena."
Add in the mix with the Barrett-Jackson Auction, and this will be a crossover event for the ages.
"I'm sure there are millions of dollars' worth of cars in that area," said Ross Hill, a veteran in the game who returned to action in July after suffering a devastating injury in two years ago. "To be around guys that their passion is cars and show them our passion is in bullfighting, that's going to be cool to see how they respond to the bullfights."  
Freestyle bullfighting has been around for nearly 40 years, but it was far from the mainstream sports scene for much of that time. It wasn't until the BFO resurrected the game that it has become a hotbed in extreme sports.
Since the BFO burst onto the scene in late 2015, nobody has been the epitome of that more than Rutkowski. He's the only world champion in Bullfighters Only's short history, but he's just leading the way for great things to come. That's happening in a hurry, and young men like Moorman are ready to take over the game.
Proof of that came in 2018. While a handful of crafty veterans held the top spots for much of the season, a group of young guns – led by a fearsome foursome of rookies that had come through the BFO Development Camps – proved their worthiness in the later stages of the campaign and into the championship in Las Vegas.
Oh, but it was a rugged test at the Tropicana Las Vegas, where every bullfighter that stepped into the ring was matched with an aggressive and powerful bull. It was a traditional Vegas prize fight, only this lasted 10 days. There were no Mike Tyson's in the pen with these men; they battled the equivalent of seven Tysons in weight class, and they fought with dangerous horns and pounding hooves.
"It feels great to be part of the BFO," Moorman said. "I've wanted to be part of freestyle bullfighting for years. Now, I'm finally able to do, and I'm in the premier league. I'm on top of the world just to be associated with these guys."
If 2018 was proof of anything, this season should be just as explosive with as many fireworks as possible. While Rutkowski dominated the 2016 and '17 seasons, he battled from behind most of last year before taking over the lead. Still, it came down to three men – Rutkowski, Beau Schueth and Toby Inman – to decide the world title.
"This is a great way to start off the new season," said Hill, a BFO pioneer from Muscle Shoals, Ala. "The bulls we'll face in Scottsdale are going to be young and fresh, and they'll be the type of bulls for everybody to showcase their talent.
"It'll be a good game-changer for everybody. I feel like everybody's had time to recuperate from Vegas. Everybody should be on a natural high, so I think it's going to be one of our better events."
---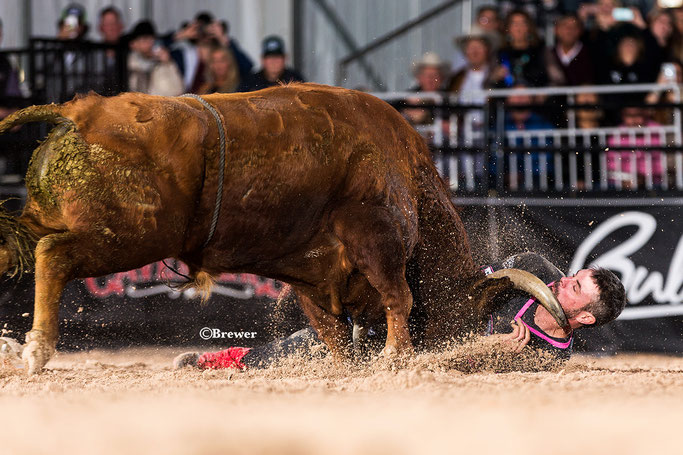 California contractor wins big
Costa, Sid Vicious earn end-of-the-season honors
LAS VEGAS – There were many great Spanish fighting bulls featured during the Bullfighters Only 2018 season, but none were better than the now two-time BFO Fighting Bull of the Year, Sid Vicious.
Aptly named, the small red bull has the perfect attitude for the battlefield. He's part of the notorious herd from Manuel Costa, who the bullfighters voted as the 2018 BFO Stock Contractor of the Year.
"I think it boiled down to the fact that Manuel has a solid number of bulls you could win on," said Weston Rutkowski, the reigning three-time world champion from Haskell, Texas. "This year, his were consistently a notch above. They were not only hard to fight, but they were also rewarding to fight.
"Sid Vicious is a bull that stands out and is in a league of his own. I was fortunate to fight him twice this year. The first time, he ended up getting the better of me in the end, but I got a few blows in first. I fought him in Vegas, and he just handed it to me."
He may be little, but he has longer horns than most bulls. Sid Vicious also was the BFO Bull of the Year in 2017.
"When guys get along with him, they're normally in the high 80s and 90s," said Beau Schueth, the reserve world champion from O'Neill, Neb. "He's got big horns and is fast, and he knows how to wheel around and hook guys. He follows you like a dog; he's always on your hip for the whole 40 to 60 seconds."
Costa has dozens of high-caliber bulls that are regularly featured at BFO events. Many were part of the Las Vegas Championship, which was the season-ending title bout for the top men in the sport.
"Manuel's got great bulls all around," Schueth said. "A lot of guys in the bull business go through him a little bit to find bulls. That says a lot about what he means to the sport."
Sid Vicious, though, stands out among Costa's bulls, which is why he got the unanimous nod from the fighters.
"He brings it every single time," Rutkowski said. "I don't think there was a guy that had a clean fight with him all year. That speaks for itself, because the talent in the BFO is second to none. To have that many good guys not get a clean fight out of him stands for itself."
Another factor is how many times the bull was fought.
"Even with a bunch of outs, he still fights lights out," Schueth said. "He still takes a fake, but you don't have too much time to wheel around. He is always right there."
---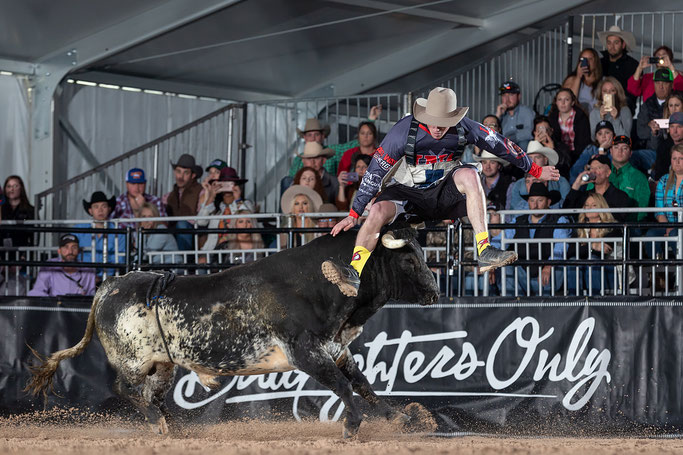 Ward named BFO Rookie of the Year
North Dakotan stands out among talented crop of rookies
LAS VEGAS, NV - Justin Ward of Richardton, N.D., outlasted a fierce group of Development Camp graduates and outsider talent to be named 2018 Bullfighters Only Rookie of the Year.
Ward was a standout at the BFO's Development Camp in San Bernardino, Calif. in April, and then burst onto the scene with a dominant win at the BFO Tri-Cities Invitational in May. He pocketed $10,000 in his first ever professional event.
"He almost made it look too easy," commented BFO Production Manager, Luke Kaufman. "It was the who's-who of bullfighting and no one was even mad they lost. Everyone was just excited about seeing a brand new superstar step out of the shadows."
With over $17,000 to his credit, he finished 2018 in 7th place in the Pendleton Whisky World Standings. Ward's stellar performance in the regular season earned him the right to compete in the Roughy Cup and have an automatic bid into the BFO Las Vegas Championship.
"This really means a lot to me because they took a lot of interest in me," Ward said. "I came to that D-Camp and showed up to play the game the way it was supposed to be played. Having Ross Hill coach me and then going up against Weston in Ada (Okla.) was pretty cool. It was definitely an eye-opener for me for sure."
He was rivaled for the honor by Chance Moorman of Lytle, Texas; Tucker Lane McWilliam of Oak Grove, Mo.; Andres Gonzalez of Woodland, Calif, and Cade Gibson of Pilot Point, Texas.
"The level of talent this year was truly impressive and it's a testament to the rapid growth of freestyle bullfighting," Kaufman said. "The older fighters understand the importance of helping out the younger athletes rather than hindering them."
"I think the D-Camps are crucial, because a lot of guys wouldn't get a chance without them," Ward said. "Just look at Chance Moorman, who was with me in San Bernardino. He is impressive."
They all were, but Ward came out on top and he got to play a starring role in the 2018 BFO Las Vegas Championship at the Tropicana Hotel and Casino.
"That was the biggest bullfight of my career," Ward said. "I got to go up against Weston in the Wild Card Round. Even though I didn't come out with a score, it was still one of the biggest thrills of my life."  
---
BFO partners with legendary Auction
Top freestyle bullfighters set to compete in first ever Barrett-Jackson Invitational
SCOTTSDALE, Ariz. – Bullfighters Only is teaming up with Barrett-Jackson Auctions to produce an unprecedented freestyle bullfighting event that will take place at the famed Scottsdale Auction, January 17-19.
"We are very excited to be a part of the legendary Barrett-Jackson Scottsdale Auction," said BFO's founder, Aaron Ferguson. "Presenting our sport to new audiences is what we are all about. The combination of Barrett-Jackson and BFO should prove to be the perfect fit."
"Barrett-Jackson has become more than just an auction, it is a lifestyle event" noted Craig Jackson CEO and chairman of Barrett-Jackson. "Our team strives to bring something new to the table every year and make the Barrett-Jackson experience even more incredible. We are happy to host Bullfighters Only as they compete in this truly unique and exciting western sport."
The Bullfighters Only Barrett-Jackson Invitational will feature the top athletes from BFO, showcasing their talents in the ultimate display of man-vs.-beast. The three-day showdown is a testament to each man's hardy courage, while facing down intensely angry Spanish fighting bulls.
Combatants have up to 60 seconds to gain as many points possible. With 100-points being the perfect score, bullfighters can earn up to 50 points by exhibiting style and control while maneuvering around, and jumping over the fighting bull. The bull, bred for this type of fight, can also tally up to 50 points for its speed, aggressiveness and willingness to stay engaged in the bout.
The competition begins at 7:30 p.m. each night at the WestWorld Equidome in Scottsdale and will be a great fit for fans who want to get their motors running in a different capacity.
Unlike traditional Latin bullfighting, the bulls in BFO's competition are at no disadvantage. Superstars like "Spitfire" and "Sid Vicious" weigh around 1,500 pounds and possess an aggressive and forceful nature that's been bred into them for over 1300 years.
Bullfighters Only is the premier freestyle bullfighting organization in the world, and having the top athletes on both sides of the equation is a key reason why. The Barrett Jackson Invitational will feature the greatest freestyle bullfighters in the game, including Weston Rutkowski, Beau Schueth, Toby Inman and Ross Hill. READ MORE...