LOCAL TO FIGHT FOR KENT CUP TITLE
Port Orchard athlete to test his skills against BFO's best
KENT, WA. – Ever since bursting onto the freestyle bullfighting this summer, Anthony Morse has been a force to be reckoned with. 
Now, he's earned the opportunity to try and match talents against the world's best at the accesso ShoWare Center during the BFO Kent Cup, set for this Saturday at 7:30 p.m. (Oct. 26) 
"From the time I started bullfighting, I've seen the BFO and looked up to it," said Morse, 20, of nearby Port Orchard, Washington. "It is the biggest freestyle bullfighting there is. It's the whole magnitude of it. It means a lot." 
It should. He has been a dominating events on the United States Bullfighting tour, a BFO affiliate created to support the sport's growth at a grassroots level. Now, he will face the top contestants in the BFO, freestyle bullfighting's premier organization. 
Morse sits No. 1 in the USBF Standings, and thanks to their partnership with BFO, his points count for 20th place in the BFO Pendleton Whisky World Standings. Not bad for someone who started fighting just 21 months ago. 
"I went to a (BFO) Development Camp last November (in Decatur, Texas), and that was really the start of it," he said. "I reached out to a guy that takes bulls to some BFO events, and I got some calves from him. Now I have a herd to practice on. 
"I'll do anything I can to get myself in front of bulls." 
He rode bulls through much of his youth but, like many, his interest in riding faded. When the opportunity to step in as a relief bullfighter called, he quickly fell in love with the new thrill. 
"I actually get bored with protection bullfighting now; I like doing the freestyle,"
Morse said. "It's you and the bull, and it's head to head. You don't have to worry about anybody else. Your sole job is just you and that bull. I love that." 
Morse has a confident personality and knows the reputation he's getting. He won the BFO Wrangler Bullfight Tour stop in Kennewick, Washington, two months ago, and he's stayed focused on the task at hand. From watching video clips to practicing on live cattle at home, Morse has his eyes on the prize.
The field of Kent Cup contestants is filled with the top contenders chasing the world championship: the No. 1 man in the world, Aaron Mercer; three-time BFO champion Weston Rutkowski; and other top superstars like Kris Furr and Beau Scheuth. They are jockeying for position heading into the year-end championships, set for Dec. 4-15 at the Tropicana Las Vegas. 
"I'm excited to see what he'll do," said Andy North, the BFO's barrelman. "You can be a hero at some of those smaller events, but these stand-alone bullfights separate the weak from the herd. When you have Weston Rutkowski, Aaron Mercer and Kris Furr and the lineup that's going to be in Kent, I think he's going to have to come with his A game."
Morse has no qualms with that. He understands the game better than most newcomers.
"I never have a plan," he said. "I can only do as much as the bull's willing to give me. It's just another bull and another bullfight." 
Some of that confidence can be attributed to his participation in BFO's developmental system, an initiative that has continued to evolve since the platforms inaugural season in 2015.  
"That's the beauty of our sport and our Development Camps," North said. "You can find these guys with hidden talent, and they can surprise you. These kids have to learn somewhere. 
"If we want the sport to last and keep pushing forward, developing young bullfighters is important."
North has been in this business for a long time - first as a competitor himself before he got in the barrel to help protect the bullfighters. His experience helped him learn to read the animals and put himself in the best position to make a save, which is why the athletes consider him the best. 
"What I enjoy most is seeing the sport continue to grow," he said. "It's not just that it's sustained, but it's progressing. I've seen a bunch of bullfights and have watched how the sport has changed from making fundamental rounds with a bull to showing these acrobatic stunts. It's turned into an art. When you see it done at a high level consistently, it's hard to be part of anything different.
"I remember when if you won $1,500 at a bullfight, you were doing something. Now a guy can win that by finishing fourth, and that's because of the BFO. It's a pretty lucrative event for these guys. The more stand-alone events like Kent that we have is just evidence that the sport is popular and continues to gain popularity." 
That's just what young guns like Morse want to see. It offers a bright future. That's why he appreciates his run through the D-Camps and USBF. 
"I would recommend to anybody that's starting to fight bulls to go to as many of those events as possible," Morse said. "It gives you the chance to go against bulls that aren't out to kill you. It's such a perfect, awesome thing they do.
"It makes things so much better for us newer guys and gives us a good chance to figure out what we're doing before we step out with the big dogs." 

---
BFO COMING TO NW WASHINGTON
America's most dangerous sport lands in Kent on Oct. 26
KENT, Wash. – The most extreme spectacle on dirt returns to Washington for the Bullfighters Only Kent Cup, set for 7:30 p.m. Saturday, Oct. 26, at the accesso ShoWare Center. 
This isn't traditional bullfighting, and no, the bulls are not harmed. The American version of bullfighting was developed as a competition between rodeo clowns in the late 1970s. In 2019, the sport has evolved into a full fledged action sport with over 70 BFO tour stops this season alone.  
The BFO Kent Cup will feature the top ranked athletes in the sport. With points counting towards the Pendleton Whisky World Standings, the event can provide a major springboard to athletes as they head into the year-end Championship – December 4-15 at Tropicana Las Vegas. 
"With all the money on the line in Kent, everyone will bring their A-game," claims the sport's #1 ranked athlete, Aaron Mercer. "The world title is what matters, and winning the Kent Cup would be a big step towards that. I'm not taking my foot off the throttle."
Scoring is based on a 100-point scale. Athletes can earn up to 50 points for how well they control the bull while maneuvering around, and often over-top of the charging animal. They can gain extra credit from the judges for adding unique style and degree of difficulty with tricks like frontflips and backflips. The fighting bull also contributes up to 50 points, gaining merit for his quickness, aggression and willingness to stay engaged with the bullfighter. 
BFO has been no stranger to Washington since reinvigorating the sport in 2015; the electrifying group has performed in places like the Tacoma Dome, Kennewick's Toyota Center and at the rodeos in Bremerton, Ellensburg and Hermiston. Its innovative production means there is more to the popular show than just freestyle – the display of true courage and athleticism creates powerful live-theatrics which are enhanced by world-class lighting and effects. 
But regardless of the stage, one false step can result in catastrophe. It's the measure of a man that will face any adversity and find a way through every step. 
"There's no time-out in this sport and these fighting bulls don't mess around. " said three-time BFO Champion, Weston Rutkowski. "They've been bred for thousands of years for this task and they love to chase anything that gets close to them - and try to eliminate it." 
That's what draws the top bullfighters to the game. They understand the dangers before them, and they overcome any fear to test their skills and their fortitude inside the arena. 
Tickets may be purchased in advance at https://www.accessoshowarecenter.com or at the arena box office. 
---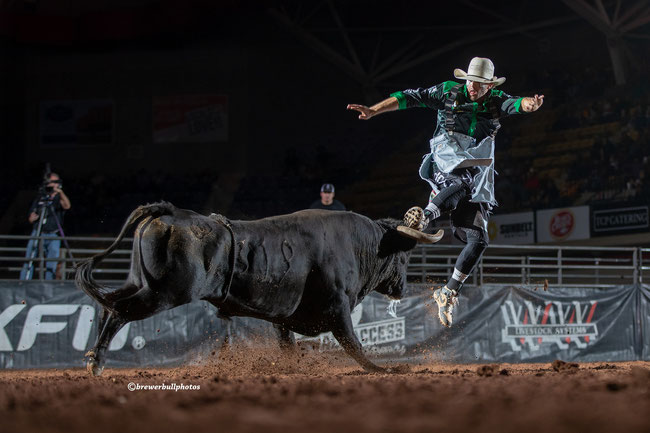 SCHUETH PICKS UP ONE HOT WIN
Nebraskan steps up big to win BFO title in Waco, climbs standings
WACO, Texas – As the 2019 Bullfighters Only season rolls toward its championship event, Beau Scheuth is at the right place mentally and physically. 
The Nebraska man proved it on Sunday by winning One HOT Bullfight in conjunction with the Heart of Texas Fair and Rodeo in Waco, adding to his season earnings and securing his spot among the top twelve men heading into the BFO Championship at Tropicana Las Vegas in December. 
"This was pretty crucial for me," said Schueth, who missed two months of competition because of an injury suffered in the spring in Ada, Oklahoma. "I wasn't able to go to as many bullfights, so these last few big events at the end of the year help solidify my spot and creep closer to the top three or four guys. I want to keep moving up and get within striking distance of a world title." 
Schueth was back to his consistent ways in Waco, winning his opening. One HOT Bullfight featured 9 athletes competing in 3-man brackets, the winners advancing to the Hooey Championship Round. Schueth eliminated three-time world champion Weston Rutkowski and Dayton Spiel by posting the highest-marked fight of the day, an 88-point bout against a 1,300 lb. paint bull named Padre from Penthouse Fighting Bulls.
"I was the third guy out in our round, and both Dayton and Weston had really good fights with really good bulls," said Schueth, who sits seventh in the BFO Pendleton Whisky World Standings. "I knew as long as I didn't get caught (by the bull) and stayed away from the fence, I'd have a pretty good shot." 
He was joined in the final round by Aaron Mercer and Dekevis Jordan, the latter of whom finished second in his bout but advanced due to an injury to the winner, Chance Moorman. Mercer is a newcomer to the BFO in 2019, but he has taken to freestyle bullfighting quickly. He sits No. 1 in the standings with $40,850 - a $4,370 lead over the runner-up, Weston Rutkowski. 
"The crowd was unreal," Mercer said. "It was one of the biggest crowds that I've ever seen. It was packed, and the athletes showed up. It's getting close to the end of the year, so we're down to the final couple events to see who's in the top. Everybody is bringing their A game.
"It was a good bullfight." 
It's what fans of the BFO have come to expect, especially the stand-alone events that showcase the top men and the elite Spanish fighting bulls that make it a dangerous clash in the dirt. There are just three more events remaining in the regular season, including a Wrangler Bullfight Tour stop this coming weekend in Arcadia, Florida. 
The final two will be stand-alone events: the BFO Kent Cup in Seattle,
Washington, on Oct. 26 and the Speedway Series Finale at the Texas Motor Speedway in Fort Worth, Texas.  
"These are classic stand-alone events, and they're big for us," Schueth said. "In Waco, every round was tough. Everybody had a shot. It just came down to how your bull was and how you handled him; that's the way it should be." 
Schueth did more than just handle his short-round bull; he also gained a bit of retribution. 
"That was the bull that laid me up in Ada," he said. "'I knew it was going to be a good fight. I wanted to get some revenge for him knocking me out of competition for two months. I was happy to be matched up with him, because he was a pretty good bull." 
Scheuth finished with 87 points, just a half point better than Mercer in the Final Round.
"I want everybody to be 90," Mercer said. "You always have that competitive factor that you want to win, but Beau turned it on and made a good fight. I want all the guys to fight their bull and put on a good show. 
"Do your best and cheer for your boys. These people are a big part of why I'm here. I wouldn't have the drive to be a world champion without them. I've never worked harder in my life. I'm committing myself to work out every day, whether it's a run down the road or three hours at Fit N Wise. I have this drive, and it's because of the people around me." 
One HOT Bullfight
Heart of Texas Fair and Rodeo
Round 1: 1. Aaron Mercer, 86.5 points; 2. Kris Furr, 81; Zach Call, 80.5.
Round 2: 1. Beau Schueth, 88 points; 2. Weston Rutkowski, 84.5; 3. Dayton Spiel, 82.
Round 3: 1. Chance Moorman, 82.5 points; 2. Dekevis Jordan, 79.5; 3. Justin Josey, 77.
Hooey Championship Round: 1. Beau Schueth, 87; Aaron Mercer, 86.5; Dekevis Jordan, 84. 
---
ADDING FUEL TO SCHUETH'S FIRE
Nebraskan earns pair of BFO victories to move up standings
ANAHEIM, Calif. - Traveling seems to get the better of veteran bullfighter Beau Schueth, but he didn't show it last weekend. He came away with a lot of miles and a couple championships under his belt, and he's thankful for the opportunities that had arisen. That's what he loves about being a freestyle bullfighter. 
"I feel really good," said Schueth, who won the Bullfighters Only Wrangler Bullfight Tour stop in Ellensburg, Washington, last Friday, then followed it up with a victory at the BFO Pepe Aguilar Tour stop in Anaheim, California. "I got through the summer with some bumps and bruises, but I feel really good about having a couple weeks off. 
"I'm going to get back to the gym and work out to get my cardio back up a little more so when the stand-alone events come along, hopefully I can set myself up to be in good position going into Las Vegas." 
The Nevada desert is home to the BFO Las Vegas Championship at the Tropicana, the grand finale that takes place over 10-days in December. Only the top 12 men in the standings earn automatic byes into the tournament, and Scheuth has been there since the BFO's inception. 
His victories over the weekend move him closer to that status in 2019. After suffering an injury in April that sidelined him, Scheuth has returned to the game as strong as ever. The first step over the weekend was to win title in Ellensburg. 
After watching Ryker Fenstermaker and Miles Barry struggle through their bouts, Schueth had a good idea of what he needed to do to come out victorious. 
"I knew that as long as I could have a good, solid fight and keep my bull engaged for the whole 40 seconds, I would have a good chance of winning," he said. "With those bulls, they were a little tougher to fight. You've got to make more rounds and be the aggressor in that kind of fight. 
"These bulls had never been fought like that before. I knew they'd come out spinning, and I knew if I could get his attention as soon as possible, I'd have a better chance." 
It worked, and so did a more traditional bout two days later at the Honda Center in Anaheim, where he faced down local favorite Andrés Gonzalez in a mano-a-mano competition. 
"It was definitely different, but it was a cool change of pace for me," said Scheuth, who moved up to No. 7 in the BFO Pendleton Whisky World Standings.
"Everything was done in Spanish; I couldn't understand them because I didn't pay enough attention in high school Spanish. The crowd is packed out, and they go crazy for it. It's a similar atmosphere to the big events we do, but it has its own little flavor. 
"It was a great opportunity, because you get to see a full concert. It was definitely a cool experience." 
Gonzalez has had profound success in the Pepe Aguilar Tour, and it's quite fitting since an overwhelming percentage of the fans are of Mexican heritage. 
"It's always a good time when I'm in California and able to go to those Pepe deals," said Gonzalez, who sits fourth in the world standings. "It's all like home to me. We had two good bullfights, but Beau had a little bit more of a bull. That's all part of bullfighting. 
"Those shows are always incredible, always sold out. Me being on the Mexican side, they give me so much support." 
---
ROSS WEATHERS FLORIDA STORM
Wyoming man weathers oncoming hurricane of BFO stars in Ocala
OCALA, Fla. – As Hurricane Dorian rocked the Atlantic Ocean and made a beeline for the Florida coast, a dozen of the top men in Bullfighters Only held their ground. 
No storm was going to darken the Bullfighters Only Ocala Cup in the central Florida community of nearly 60,000. This was a chance to prove the amazing showcase that is a BFO stand-alone event. 
"The crowd was really into it," said Trenton Ross, who earned his first BFO title in Ocala. "It was really energetic, and it was really cool in that town."  
Competing in just his fifth BFO event, Ross shared his long-round victory with Justin Josey of Apache, Oklahoma; both posted 83-point bouts. Ross advanced to the Hooey Championship Round via the tie-breaker, which came down to the best bullfighter score. In the final round, he was joined by the other long-round winners: Kris Furr, Andrés Gonzalez and Aaron Mercer.
"Ocala was just a battle, because it was 12 of us all going for that stand-alone title," said Gonzalez, who finished as the runner-up and sits fourth in the BFO Pendleton Whisky World Standings. "I honestly went out there to put together a standard, old bullfight. I had more control of the bull. 
"In the Championship Round, I got wrecked out, got hit, and that's what caused me to lose by a point."  
By the time it was over, Trenton Ross had completed his biggest goal: Winning on the BFO tour. 
"It meant a lot," said Ross, 20, of Jackson, Wyoming. "I've worked toward it the last few years and was finally able to get a win in the BFO. That's a huge milestone in a guy's career." 
Ross was an attendee of BFO's first Development Camp in San Bernardino, CA back in 2017. Now, he is finding out why BFO is the premier organization in the sport of freestyle bullfighting, with the highest payouts in the game. With his Florida victory, Ross moved up to 14th in the standings. 
"The BFO is the biggest stage for bullfighting," he said. "The best guys are in it, and it has the best bulls. To say you fight in the BFO and you won one of those events is great. These are good people, and they're great to work with. It's awesome to be around these guys and view their mindsets." 
Like everyone who competes, the goal is to finish the season as the world champion. The BFO will crown it's fourth, this December at the conclusion of the Las Vegas Championship. It is the culmination of a season that features more than 70 events across North America. 
It's a world-wide attraction, with a Canadian (Mercer) atop the world standings and a Mexican-American (Gonzalez) among the top five. 
"I still think it's crazy and can't believe that I'm sitting fourth in the world,"
Gonzalez said. "Last year I was just trying to get some BFO shows. It's another dream come true to be in the top five. We're all still competing for that No. 1."
Hey 
Ross has a chance to move closer to those goals with several events still on tap for the 2019 campaign, but winning in Ocala is going a long way in helping toward the mental aspect of the game.
"This gives me a lot of confidence," Ross said. "I think the big reason for me winning was that I spent a lot of hours in the gym getting my body ready, watching videos of bullfighting and trying to do everything I can to make myself better."
Part of that is spending time with the others that help make the BFO the elite corps in freestyle bullfighting. 
"The older guys on tour are really helpful," he said. "They want to see the sport grow and get better. Those guys are definitely super helpful. Anytime you ask those guys a question, they'll give you the answer you need." 
If he's being tested on the questions at hand, his win in Ocala was proof that Ross is a good student. 
Hey 
RESULTS
Round 1: 1. Kris Furr, 82 points; 2. Riley McKettrick, 79.5; 3. Seth Wilson, 60.
Round 2: 1. (tie) Trenton Ross and Justin Josey, 83 points; 3. Chance Moorman, 80; Ross advances on tie-breaker.
Round 3: 1. (tie) Andrés Gonzalez and Dekevis Jordan, 85 points; 3. Scrawney Brooks, 83.5; Gonzalez advances on tie-breaker.
Round 4: 1. Aaron Mercer, 85 points; 2. Knox Dunn, 83; 3. Tristan Sergeant, 76.
Hooey Championship Round: 1. Trenton Ross, 83.5 points; 2. Andrés Gonzalez, 82; 3. Aaron Mercer, 81.5; 4. Kris Furr, no score.
---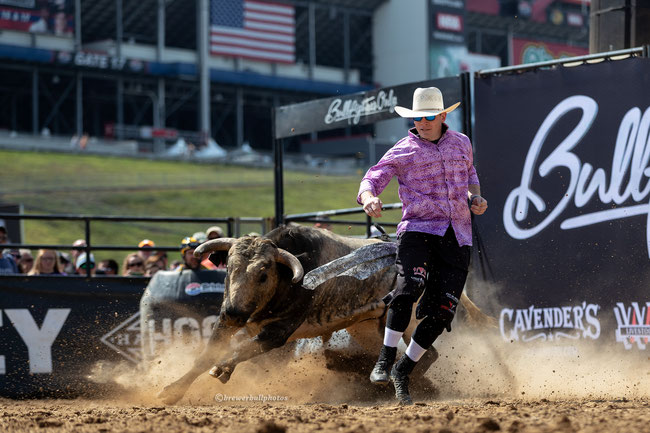 FURR ON FIRE IN BRISTOL
North Carolinian earns second BFO Speedway Series title
BRISTOL, Tenn. – Simply put, Kris Furr was ready to get back to work. His job? Juking and jumping over Spanish fighting bulls. 
After suffering a groin injury last month in Colorado Springs, Colorado, Furr proved why he remains one of the best in the business by winning the Bullfighters Only Speedway Series stop at the Bristol Motor Speedway. He put on two high-marked bouts – an 89 to share the first-round victory and a 92.5 in the Hooey Championship Round – to win the crown. 
"I'm just trying to get back up in the Pendleton Whisky World Standings," said Furr, the sixth-ranked man in the BFO from Hamptonville, North Carolina. "I've been sitting out, and it's time to get back to it." 
He did that well on a very humid morning in northeastern Tennessee and secured another Speedway Series event title. 
"Other than it being very hot, it was great, and Chad (Ellison) always brings some really good bulls to those events," he said. "After my first bullfight, it was one of those where I wasn't sure if I did enough to be enough points. Usually when I think like that, I'm a lot of points.
"Come the short-round time, it was so damn hot, and I was ready to get it done, drink some water and take my stuff off." 
Furr tied with Nebraskan Beau Schueth and Canadian Aaron Mercer with 89-point fights in the opening round. They advanced to the Hooey Championship Round along with three-time world champion and world-standings leader Weston Rutkowski, who posted an 86 to advance. 
 All four finals competitors are firmly inside the top 10 in the standings, and it added up to a spectacular display of athleticism. Besides Furr's 92.5, Schueth finished second overall with a 90-point bout in the final round, followed by Rutkowski's 88 and Mercer's 87.5. 
"The crowd was rowdy at this one," Furr said. "I think the time of the bullfights are what's best for me because they're in the mornings. I like it being early so you're not thinking about it all day." 
While there was plenty to celebrate, a scary situation arose after the first round. Colt Oder of Moorpark, California, was flipped up into the air and landed awkwardly on his head. He regained consciousness and finished his fight, but medical staff quickly realized that something wasn't right. Oder was airlifted to a hospital in Bristol and treated for head trauma. He has since been released. 
"With a little more prayer and a little more time, we should make a full recovery," Oder said on a social media video. 
Bristol Motor Speedway - Aug. 17, 2019
First round: 1. (tie) Beau Schueth, Kris Furr and Aaron Mercer, 89 points; 4. Weston Rutkowski, 86. Hooey Championship Round: 1. Kris Furr, 92.5 points; 2. Beau Schueth, 90; 3. Weston Rutkowski, 88; 4. Aaron Mercer, 87.5.
---
ODER RELEASED FROM HOSPITAL
Californian on the mend after sustaining serious head trauma 
Bristol, Tenn. - Colt Oder is back on his feet after a scary incident during the Bullfighters Only Speedway Series event at Bristol Motor Speedway on Saturday. 
The Californian was life-flighted to local hospital where he was sedated for approximately 36 hours to allow him rest and reduce swelling. 
On Monday at around 4:30 am, Oder began to come to and slowly regained conciseness throughout that morning. He is now wide awake and has since been released from hospital with a positive outlook from doctors. 
Oder will be sidelined from competition indefinitely. Colt Oder is back on his feet after a scary incident during the Bullfighters Only Speedway Series event at Bristol Motor Speedway on Saturday.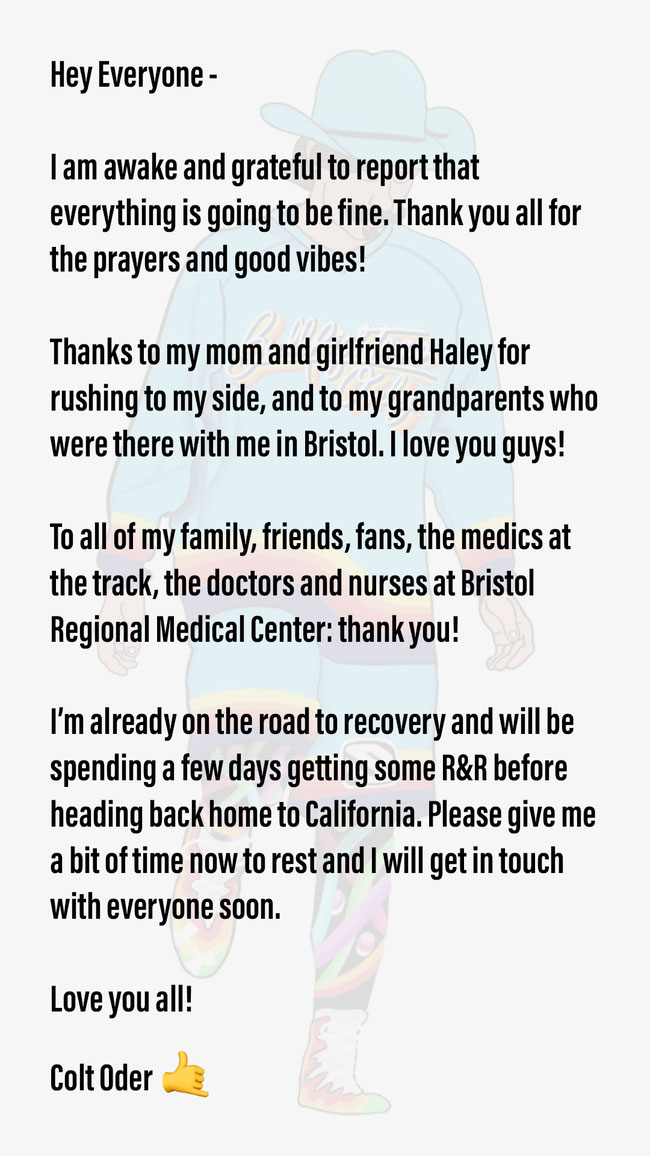 ---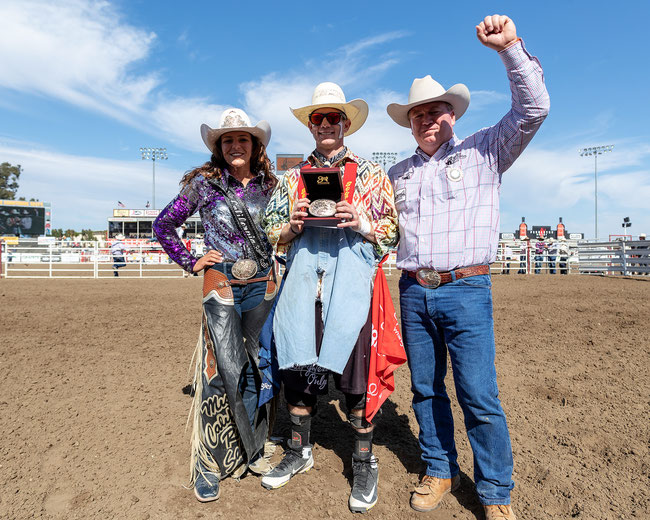 HARP EARNS 2ND SALINAS TITLE
Oklahoma bullfighter wins two rounds, places in two to win BFO event
SALINAS, Calif. – A lifetime of freestyle bullfighting dreams is now a reality for Nathan Harp. 
Last week, he returned to the Monterey Bay area to compete at one of the most prestigious events in the game, the Bullfighters Only Wrangler Bullfight Tour stop at California Rodeo Salinas. 
After the final round on Sunday, July 21, Harp had earned the victory for the second time in his career and quickly moved up the BFO Pendleton Whisky World Standings. He now occupies 13th place with just shy of $7,400 in earnings. 
"It's pretty surreal," said Harp of Tuttle, Oklahoma. "As a young bullfighter, there were three big bullfights before the BFO came along: Ada (Oklahoma), Salinas and Denver. It was a dream to go out to California to compete. To win it once, let alone twice, is a dream come true." 
Salinas is a different animal in the world of bullfighting. Six men compete in four rounds, with payouts being distributed each night. The biggest checks are given to the top scores in the four-fight aggregate. By finishing with a cumulative score of 331.5 points, Harp earned the title. 
But he was dominant; he won the second and fourth rounds, was runner-up on the opening night and finished third in Round 3. His total score was five and a half points better than the No. 2 man in Salinas, Nebraskan Beau Schueth. 
"I've either finished first or second the last four times I've competed there, winning by a point or two or losing by a point or two," Harp said. "It's one of the toughest bullfights in the game. It's four rounds, and it's based off an aggregate score. Every bull counts, and every point counts.
"Going into Salinas, my goal was to be consistent, fight bulls like I know how to fight and just let the points fall where they fall. I can't control what the other guys do. All I can control is my mindset. That's the best I've ever done, and thankfully I drew well. I drew the best of anybody there as far as the bulls go."
That's big, but so is the passion with which Harp takes care of business. In this dangerous game, and focus is always the key. 
"Nothing matters when it's just you and the bull – not the crowd or what you did the night before," he said. "What I do is a gift that sometimes I take for granted. When I'm at my best, I'm just enjoying it." 
RESULTS
1. Nathan Harp, 331.5 on four fights; 2. Beau Schueth, 326; 3. Weston Rutkowski, 319      SEE FULL RESULTS
---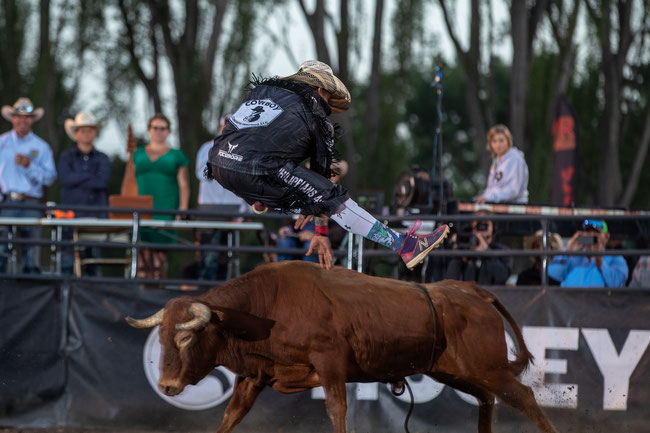 SASQUATCH WINS AMONG SEQUOIAS
Gonzalez earns another BFO victory, this time in northern California
FORTUNA, Calif. – While his ancestors enjoyed bullfighting with a cape and an olè, Andrès "Sasquatch" Gonzalez loves what he's able to do during the American version of freestyle bullfighting through Bullfighters Only. 
The proof has come often this season, with the latest version happening last Friday night at the BFO Sequoia Cup in Fortuna, California. In his first time competing among the Redwood trees and the rowdy fans that Fortuna is known for, he walked away as the event champion.
"This was a big win for me, because overall, I think it's great having a California guy winning an event like this," said Gonzalez, who pocketed $6,000 and carried a specially made wooden trophy back home to Woodland, California. "I feel like it's one of the bigger events, and it was an awesome experience." 
He was one of five men to advance to the Hooey Championship Round, where he posted 87.5 points to share the top score with newcomer Chance Pruitt.
Gonzalez earned the title through the tie-breaker by having a higher bullfighter score – the total points are based on a 100-point scale, with half the score coming from the animal and half from how well the man controlled the fight. 
The Californian earned the title by a mere half point. 
"You don't see too many Hispanics on the rodeo side of things, especially in freestyle bullfighting," he said. "This is the kind of show that I like to do. When anybody dedicates themselves, they can do whatever they want. 
"I feel like I was born to be a freestyle bullfighter, it's in my blood. I thank God it was a gift He gave me."  
It was also an experience for the whopping crowd in the northern California community of 12,000 people, but it's something they've grown to love thanks in large part to the organizers. The BFO has been a big part of the celebration in Fortuna for three years. 
"For us to bring the BFO gang up here is a big deal for this part of the country," said Shannon McWhorter, president of the Fortuna Rodeo Association. "They've stepped up their game every year, from the first year where we just set up some panels and threw some things together until now, where it's a full-blown BFO event like you'd see in Las Vegas.
"We pack the people in here, and fans leave this thing saying they can't wait until next year. These guys are just like us, and a lot of these guys are from rural backgrounds. They come in here and just make us look good. We're just a group of 20 guys that put on a weeklong festival, and the biggest part of the festival is the BFO." 
That's saying something in just three short years, but it's become a trend with the rapidly growing BFO, which got its start in 2015 and had its first full season a year later. It's now the most extreme sport in the country, with all the prestige and production necessary to help draw fans to the dangerous game of chance. 
Evidence of that came in the final round when the two-time bull of the year, Manuel Costa's Sid Vicious, was matched with the Calgary, Alberta's Aaron Mercer, the No. 2 man in the BFO Pendleton Whisky World Standings. As the bullfighter started his bout with his patented "Mercy Roll," Sid Vicious added a bump and caused him to over rotate. 
Mercer righted himself, only to be thrown high into the air just six seconds into the bout. In all, Mercer was knocked around at least eight times, with Sid Vicious ripping off his jersey and protective vest in the process. But the Canadian finished the bout. 
"I went into that fight with a different mindset," he said. "I wasn't as worked up as I normally would have been. I heard I had Sid Vicious in the short round. You hear that name, and you're going to get a little more nervous. I'm just glad I was able to finish the fight. 
"The crowd was massive, and the stands were full and people were standing around. They crave bullfighting there. People love it in Fortuna, and we love putting on a show for them. I think that's what makes Fortuna one of our better events." 
Pruitt was competing at just his second BFO event, just a few weeks removed from the Southern Classic in Gainesville, Georgia. He quickly realized there was a different energy in the stands among the giant Redwoods. 
"It was a really cool setting," said Pruitt, 18, of Jasper, Arkansas. "For us to drive there was awesome, to see the Redwoods and then to get there and see the arena. The backside was pretty far up, and it was full of people. The crowd was really into it." 
His second-place finish also proved why the BFO invited him to compete amongst the top athletes in the freestyle bullfighting game. Not only are the top bullfighters in the BFO, but so are the rising stars and there are still plenty of opportunities ahead to earn a bid for the Las Vegas Championships, set for December 5th-14th at the Tropicana Las Vegas. 
"With this win, I think I moved to No. 5 in the world," Gonzalez said. "I'm going for the No. 1 spot, and hopefully I can work my way to be the world champ. For me being the only Hispanic on tour, it means a lot to me to do well. 
"Being able to be part of the BFO is the  biggest thing for my career. These were my idols, and now being able to compete against these guys is a dream come true. This is a goal of my life. Last  year, I was in two events, and I won them both, and now I'm being part of the whole tour is incredible for me."    SEE FULL RESULTS
---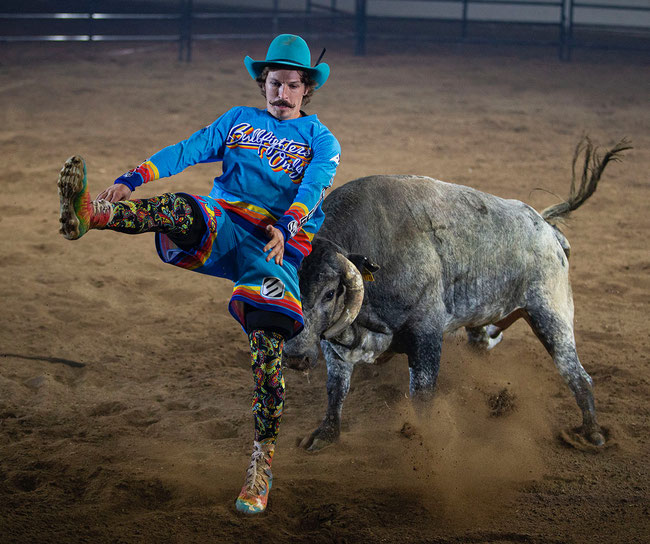 CALI TAKES CALGARY
Oder sweeps competition with dominant performance  
Hype man: an individual whose job is to grow the audience's excitement before a headliner takes the stage.
Brinson James "The Entertainer" had the sold out crowd on their feet during "Bulls After Dark", one of the most hyped events of the 2019 Calgary Stampede. It was everything it was amped up to be and the headliner was 22-year-old Colt Oder.
The unique spectacle featured light shows, fire and even a DJ spinning EDM beats, but a 91 point fight from the colourful California native topped it all.
"It was electric. I had a whole section cheering with me right before my fight and that's something you can't buy."
It was the perfect night for Oder to bust his signature move "the barrel" on the roan bull Leap Frog from Hamsher Fighting Bulls.
He compares it to a surfer being on the inside of the barrel of a wave; he gets as close to the bull as possible and then plants both feet, sucks backwards and runs his hands along the bull's opposite side.
"I like to dress it up a little bit and style it. Keep him close." 
Oder's smooth style contrasted perfectly with the energetic crowd. He also scored  the "W" on Friday night with 86.5 points and followed with a perfect encore on Saturday night. 
"Calgary is crazy. I've been to quite a few different productions but this one makes your hair stand up on end. They do a great job." 
---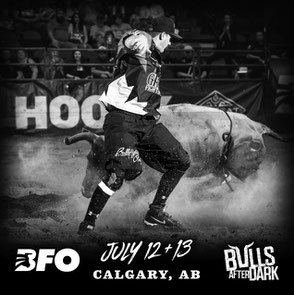 HOMETOWN HERO
Mercer ready to shine at Greatest Outdoor Show on Earth
There is something to be said about the home field advantage. Talk to any professional athlete and they'll tell you nothing compares to the feeling they get showcasing their talent in front of a hometown crowd. 
Now, imagine if that crowd was at the world-famous Calgary Stampede during the innovative, new 'Bulls After Dark' event.
"I was stoked when they told me I was going back North," commented Aaron Mercer, the 26-year-old Canadian bullfighter who currently sits number one in the BFO Pendleton Whisky World Standings. 
Mercer's enthusiasm for freestyle is contagious and his record setting year has fans and opponents watching his every move. With nearly $30,000 in earnings, he's climbed the standings faster than anyone in BFO history. Impressive, considering he stepped in front of his first bull just over a year ago. 
"I'm so excited to be in Calgary. I mean - it's the Stampede." 
He won't have it easy though. Some of BFO's top talent will also be featured during the event, set for Friday and Saturday at 10 pm nightly inside the Nutrien Western Event Center. Mercer will be joined by Justin Josey, Colt Oder, and rookie Dekevis Jordan. And they're ready to put on a show. 
"There's no better feeling than calling for a bull with your best buds. I told them –boys– we are going to be the mayors of this city before we leave. Let's give Calgary a show they will never forget."
He has our vote. 
---
DEKE AFTER DARK
Jordan looks to build on stellar debut 
 By Kirsten Gjerde
CALGARY, AB - First impressions are important.
A new face left one only moments after he called his bull in Gainesville, GA last weekend. He opened his fight with a front flip that had so much clearance that the bull, crowd and fellow competitors all did sideways glances at each other and pulled out their programs. 
Who is this kid? 
He's the self proclaimed "Backflip Kid", Dekevis Jordan. 
It's a name that no one will be forgetting anytime soon. Jordan's first BFO fight was a success. After advancing with an 86 point qualifier in round 3 he went runner up to Chance Moorman in the finals with a massive 90.5 point score. The entire weekend was one of the most competitive in BFO history and the last round left him half a mark shy to leaving Gainesville, GA as the champion. 
That talent displayed by Jordan also punched his ticket to the coveted Calgary Stampede. 
What's the game plan for the 20-year-old Oklahoma native when he crosses from the star-spangled banner country onto maple leaf territory this week?
He's all business. 
"I have one mindset - to fight my bulls."
Jordan has been fighting bulls for four years now and training the entire time for this kind of entrance into the elite world of the BFO. He isn't hitting the gym though. Jordan is getting his practice in at his day job, working under stock contracting companies "SR Bucking Bulls" and "Flying C Livestock." He is learning to read cattle and after work Jordan is practicing his technique in sand past his ankles.   
"My boss is behind me 100% and he pushes me just as hard as I push myself. He makes me work for it because he wants me to do well just as much as I do."
His office next weekend? 
The Nutrien Ag Events Centre for the Calgary Stampede's first annual "Bulls After Dark". This event will be the most adrenaline-fueled entertainment outlet of the 2019 stampede and it will only be the BFO rookie's second big show. 
Former professional bullfighter and now Rodeo and Chuckwagon Consultant Kynan Vine is one of the driving forces behind Bulls After Dark and is optimistic about the level of talent heading to Calgary. 
"It's exciting to see a young guy like him with this level of finesse. As long as he gets his style down pat, his tricks and athleticism are going to make a big difference." Vine stated. 
Who else will be joining the "Bulls After Dark" ranks alongside Jordan?
The one and only Justin Josey; the colorful Californian Colt Oder; and the #1 athlete in the BFO Pendleton Whisky World Standing, Canadian Aaron Mercer. All three are high on the BFO leaderboard this season and their involvement holds the promise of a great weekend packed with talent, tricks and entertainment.
"We have the top guys in the BFO. Between the four; it's going to be awesome." Vine adds. 
Fans of the Calgary Stampede are in for a thrill when the sun goes down and the bulls come out.