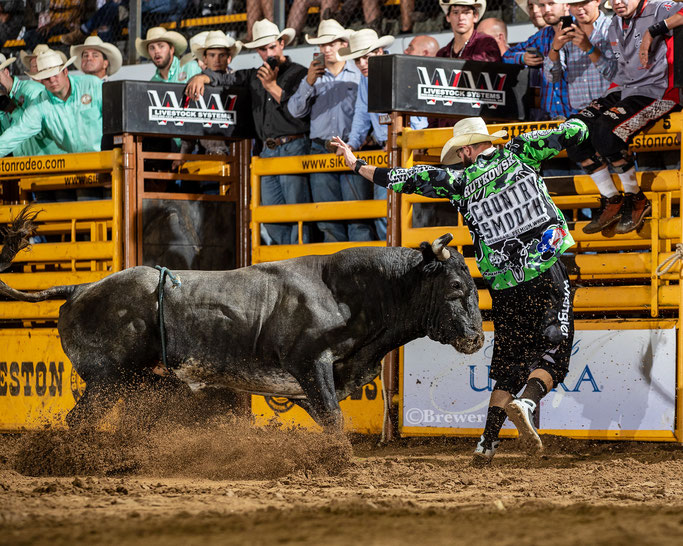 Rutkowski gains ground in Sikeston
SIKESTON, Mo. – Weston Rutkowski knew he needed a break, a chance to heal his wounds and refocus his attention, but he had to take care of business first.
He did that Thursday and Friday by winning both rounds and the overall championship at the Bullfighters Only Wrangler Bullfights Tour stop at the Sikeston Bootheel Jaycee Rodeo.
Rutkowski posted the highest-marked fight in the opening round, matching moves with Knox and Cross Dunn's King Kong for 87 points. He followed that with a second round-winning 83 to take the crown.
"It's been a pretty long summer, so this was good," said Rutkowski, the reigning two-time world champion from Haskell, Texas. "I started off pretty hot, then things kind of fell apart for me. I didn't pick up the wins like I needed to, then I got banged up in Salinas (Calif.)."
With the victory, he earned $4,200 and moved up to second place in the Pendleton Whisky World Standings. Rutkowski now sits just $108 behind Toby Inman of Davis Junction, Ill.
"That's all fine and dandy, but that's not the focus," Rutkowski said. "As long as you're within tracking distance when we get to Vegas, you've got a shot."
The world champion will be crowned after the conclusion of the Las Vegas Championship, held annually at the Tropicana Hotel & Casino and featuring the biggest prize money in the game.
"It's nice to sneak away with a win when you're still not fully healthy. That was a good one to win; no matter the outcome, I was going to take some time off and heal up."
Rukowski will take the next month and a half off to get his body back in shape for BFO's upcoming battles.
"It's that time of year when your body is just beat up and worn out," he said. "You have to stick through it, grind it out and hope you can pick up a few dollars here and there."
SIKESTON RESULTS
1. Weston Rutkowski, 170/2
2. Tucker Lane, 164/2
3. Beau Schueth, 160/2
4. Schell Apple, 156/2
5. Toby Inman, 86/2
6. Kris Furr, 78/2
---
Moorman wins first BFO
SIDNEY, Iowa – Chance Moorman knew he needed to do something big during the final night of the Bullfighters Only Wrangler Bullfights Tour stop at Iowa's Championship Rodeo in Sidney.
The young Texan started his championship round fight with a perfectly executed front flip, then proceeded to keep the animal engaged with solid fakes and well-timed rounds.
"My good friend Tucker Lane went first and got a real hot red bull and put on a fantastic fight," said Moorman of Lytle, Texas. "I was just sitting there thinking that I had to go big; pull out all the stops."
The result was a round-tying 86-point fight, with the Texan taking the victory on the tie-breaker: highest bullfighter score. Though his bull wasn't on him like Lane's was, Moorman continued to maintain his presence with the animal for the full 60 seconds.
"I knew I had to start with my signature front flip," he said of the maneuver, which he also used in his first-round winning 88-point fight.
Not bad for a kid who celebrated his 18th birthday just one day prior. Only four months before, he took part in the BFO Development Camps – the first in Houston, the second in San Bernardino, Calif. Now he's a BFO event champion.
"It's long-awaited," he said. "I haven't been fighting bulls very long, but I've been to four BFO events and nearly won two of them. I've been itching to pick up my game and earn that win."
For winning the championship, he pocketed $2,500 and moved up a few spots to 9th in the Pendleton Whisky World Standings. Moorman hopes to utilize that momentum as he closes out the BFO regular season and heads into his first Las Vegas Championship in December.
"This helped me in a major way, because I've been sitting just outside the top 10," Moorman said. "I'm super competitive and hate losing, so knowing I can win is going to make me want it more and more."
---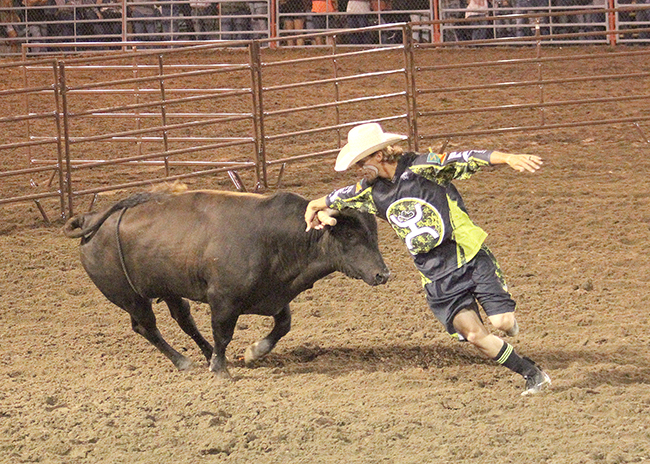 Apple collects valuable win
Oklahoma man uses wit and athleticism to win BFO-Dodge City title
DODGE CITY, Kan. – Schell Apple knew he had to be the aggressor during Tuesday night's Bullfighters Only Wrangler Bullfights at the Dodge City Roundup Rodeo.
He matched moves with a young bull from Rockin' B & Magnifica for 81 points, winning the prestigious Dodge City event title and the lion's share of the prize money. He will move up a few places to 11th in the Pendleton Whisky World Standings, with several events left on the season.
"This means a lot and it's really cool," said Apple of Fay, Okla. "I've been putting in the work, and trying real hard. I'm trying to tap into the talent that God's given me. This victory is not for me; it's for Him."
Apple outscored two of the BFO's best - both sitting well within the top 10: #6 man Beau Schueth and the #3 ranked and two-time defending world champion, Weston Rutkowski. Both Schueth and Rutkowski finished with 77 points.
The three bullfighters were matched with a less experienced set of bulls Tuesday, which required each athlete to formulate a different game plan through their 60-second bouts.
"Brett Hall with Rockin' B & Magnifica is our 2017 Stock Contractor of the Year," Apple said. "He approached me before the event and said the bulls are fresh. That means one of two things: They could be real flighty, or they could be real hot. You have to prepare yourself mentally for both those things.
In the dangerous game of freestyle bullfighting, the men who find the most success utilize their understanding of the animals just as much as the athleticism. That's one of the reasons Apple found Victory Lane.
"I knew I'd have to push him. I slowed things down from the beginning to keep that bull engaged as much as I could."
"It's a the fighter's mentality, so it's either him or me," he said. "You've got to channel that every time. There are times when you're the one who comes out on top but there's a little bit of fear every time you do it; if you're not scared, there's something wrong.  
"You've got to channel those nerves and use them to your advantage."
RESULTS
1. Schell Apple, 81 points
2/3. (tie) Weston Rutkowski & Beau Schueth, 77.
---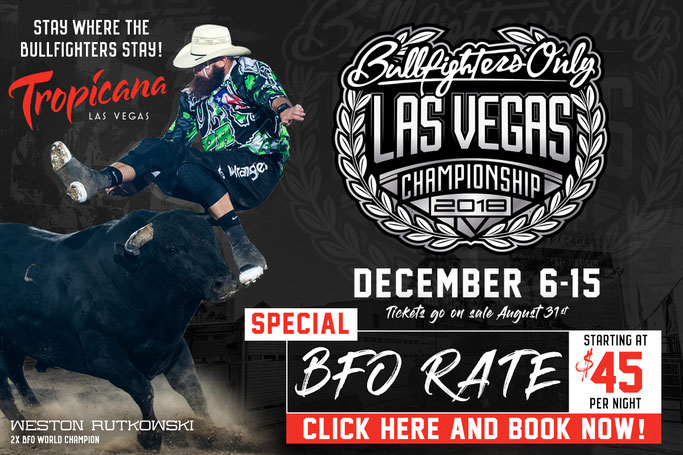 BFO-Vegas is growing
More seating, more performances to be part of BFO Las Vegas Championship
LAS VEGAS – Sin City's hottest spot during the National Final Rodeo can be found at the southeast corner of Las Vegas Boulevard and Tropicana Avenue. The Bullfighters Only Las Vegas Championship returns to Tropicana Casino and Resort - Thursday, Dec. 6 through Saturday, Dec. 15.
"We had eight incredible days of competition last year," said Aaron Ferguson, founder and CEO of Bullfighters Only. "This year we've upped the ante, so to speak. We're going to increase our performances, and we're going to have a larger venue to allow for more fans to enjoy the show."
The BFO is the premier league for freestyle bullfighting, with talented athletes testing their skills, and abilities against equally athletic bulls that have been bred for their aggression. The Bullfighters Only Las Vegas is the "Super Bowl" of the sport.
"We had incredible crowds last year, and the word is continuing to spread," Ferguson said. "There is high demand, people want to see what Bullfighters Only is all about."
That demand is high because the BFO features the most talented bullfighters in the game. Weston Rutkowski is the two-time reigning world champion and the first man in the history of freestyle bullfighting to earn more than $115,000 in a year.
The world-class competition takes place at 2 p.m. daily, with the first performance featuring the top nine bullfighters in the Standings competing for the fourth annual Roughy Cup.
But it's not just the proven stars who will be showcasing their talents inside the massive tent at the Tropicana; the young, rising talent in freestyle bullfighting will have opportunities to prove themselves through a series of qualifier events.
And no matter the status of a bullfighter, each will be challenged by the most athletic, agile and impressive bulls in the game. The BFO will feature animal athletes from a variety of the nation's top fighting bull contractors.
"Tropicana Casino and Resort is affordable for people coming to Vegas that time of year," Ferguson said, referring to rooms starting at $45 per night. "It's right on The Strip and has easy access to all things rodeo during NFR. Plus, it's just down the road from the Thomas & Mack Center."
From the world-class production that is BFO freestyle bullfighting, to the Hooey Jam after each show at Robert Irvine's, there is a spectacle every day. The Las Vegas Championship will feature a purse of more than $50,000, with the world champion set to receive an additional $50,000 bonus.
To the victor go the spoils. Tickets to the Las Vegas Championship at the Tropicana Casino and Resort go on sale Aug. 31 at www.BullfightersOnly.com.
Book your rooms now! https://book.passkey.com/event/49726506/owner/1356/home

---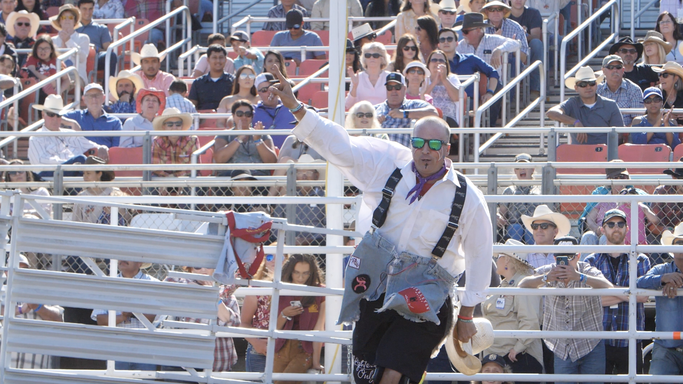 Hard work pays off in Salinas
Hill completes comeback during BFO Wrangler Bullfight Tour stop
SALINAS, Calif. – Between them, Ross Hill and Nathan Harp have undergone two surgeries and two years of rehabilitation over the last 14 months.
Their persistence paid off this past weekend at the Bullfighters Only Wrangler Bullfight Tour stop at California Rodeo Salinas. Hill won the overall crown by winning the final two nights of freestyle bullfighting, edging Harp by just half a point in the process, 326.5 to the Okie's 326.
"Starting out fresh, I knew by the final round on Sunday that I would have it figured out," said Hill, a BFO pioneer who has missed the last year and a half of action. "I had to get back into the swing of things, but after the first two rounds, I felt like I could dial it back in like I knew how to fight a bad Spanish bull."
Hill had a serious ACL tear, with the original injury occurring in 2009 and compounding from there. He reinjured the same knee twice in 2016, which caused additional damage to his meniscus. Surgery took place this past January, and he was cleared to compete again last week.
"It feels good to know my knee is in good shape," said Hill of Muscle Shoals, Ala. "I have a lot of confidence about my physical condition. My knee feels amazing. This is the first year that I can remember not being sore."
The "Alabama Slammer" won the Salinas title for the third time in his career: He shared the title with fellow BFO pioneer Dusty Tuckness in 2007, then won it outright the following year. Those that have tracked his progress since surgery knew it would be possible.
"When he injured it many years ago, then re-did it again in 2016, that was the final straw," said Keith Skates, the sports medicine coordinator for Fit N Wise Sports Medicine and Bullfighters Only. "When Dr. (Bob) Clifford did the surgery, he noticed that Ross had two bucket-handle tears in his meniscus. To have one was pretty intense, but to have two is an even bigger deal.
"The ACL was so ruptured that it started to grow through his PCL."
That was a lot of work to be done on one knee. Harp knows about that. When he was injured in April 2017, his surgeon had to repair the ACL, a torn MCL and torn meniscus. He went back to work in cowboy protection this past December, but Salinas was his first time back in a freestyle competition.
"It was great to be back in front of some fighting bulls," said Harp of Tuttle, Okla. "I've fought a lot of rodeos since December, but to nod my head for one for 60 seconds was exciting. I was at the most peace and had the most fun at a freestyle bullfight in a long time. It felt good to be back and enjoying it the way it's supposed to be."
With the victory, Hill took the lion's share of the payout, earning $6,400. Harp collected $5,400. Both paydays will come in handy as the men look to qualify for the BFO Las Vegas Championship, which takes place annually at Tropicana Hotel & Casino and featuring the biggest prize money in the game.
"The guys at Fit N Wise helped me in getting my physical conditioning back," Hill said. "I'd go in there every day and do workouts. We'd steadily progress my workouts. As I'd gotten stronger, the workouts were more intense. I was feeling better than I had in a long time."
That's exactly how Harp felt through the four rounds of tough competition in Salinas.
"I definitely wanted to win, but it was awesome to see Ross make his comeback," Harp said. "I remember how it was when I first came back to work. I don't know if I could win an event on my first bull back. For him to do that against the competition there, it was pretty awesome to see."
RESULTS
1. Ross Hill, 326.5 points on four fights; 2. Nathan Harp, 326; 3. Zach Flatt, 321; 4. Cody Emerson, 319.5; 5. Weston Rutkowski, 316.5; 6. Toby Inman, 309.5.
---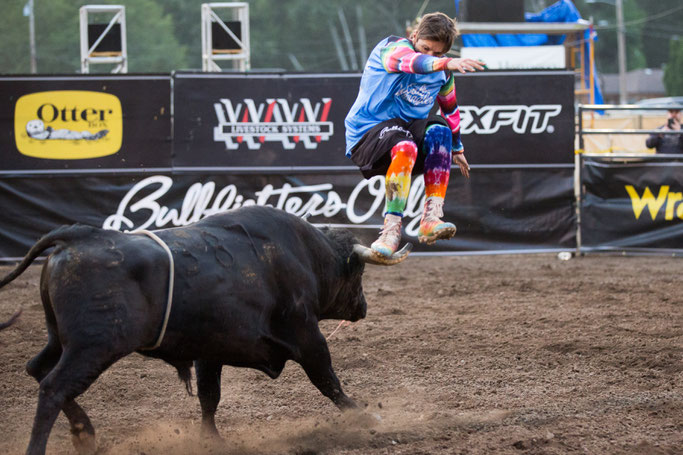 Oder wins home-state title
California's Colt Oder stands tall among the Red Woods
FORTUNA, Calif. – Colt Oder only thought he'd been to the northern reaches of his home-state before.
"I've been to San Francisco, but another four or five hours further and I wasn't sure that I'd still be in California."
Raised in the southern California town of Moorpark, Oder found true north on Friday when he competed in the Bullfighters Only stand-alone event in Fortuna, Calif. Not only was it his first time competing among the Sequoia trees and rowdy fans that Fortuna is known for, he also walked away as the event champion.
"I had a pretty weak first round and didn't think I was going to make it out, but the cards played in my favor and I made the short round," said Oder, who won his opening round with a 79-point fight, then put together an 86-point bout with Costa Fighting Bulls' Little Foot to claim the top prize and $6,000.
"Colt is one of the most persistent people I've ever met," commented BFO's Founder & CEO, Aaron Ferguson. "He's been to five of our Development Camps in two years and is getting better with every bull that he fights. Pair that with his unbelievable toughness, and the kid is going to be a big factor in the sport."
Oder was joined in the Hooey Championship Round by the other three of the BFO's most promising rookies: Alex McWilliams of Paso Robles, Calif.; Tucker Lane of Oak Grove, Mo.; and Chance Moorman of Lytle, Texas.
"I fought Little Foot last year in Lewiston (Idaho), and I didn't capitalize on it," said Oder, who also scored his first BFO win in Crosby, Texas, earlier this year. "When I got back to the short round here and I had Little Foot, I knew I had a good opportunity to make up for it.
"I was pretty happy to have Little Foot in the short round. He's a solid, honest bull that will come to you with a lot of head for the whole bullfight. Once you're in a zone, you'll stay hooked up with you. I knew I could do a solid flat-foot jump right out of the gate."
The victory propels the California bullfighter ahead in the Pendleton Whisky World Standings with $16,400. The recent windfall should ensure Oder's berth into the 2018 BFO Las Vegas Championship, held annually at Tropicana Hotel & Casino and featuring the biggest prize money in the game.
"This is a huge confidence booster for me," Oder said. "It was great to get the win in my home state. The money should bump me up a little bit in the standings, and I was needing it."
RESULTS
Round 1: 1. Alex McWilliams, 82.5 points; 2. Miles Barry, 79; 3. Kris Furr, 0.
Round 2: 1. Tucker Lane, 85 points; 2. Knox Dunn, 81; 3. Seth Wilson, 0.
Round 3: 1. Chance Moorman, 87 points; 2. Justin Ward, 84.5; 3. Justin Josey, 76.
Round 4: 1. Colt Oder, 79 points; 2. Beau Schueth, 77.5; 3. Eli Sharkey, 77.
Championship Round: 1. Colt Oder, 86 points; 2. Chance Moorman, 84; 3. Tucker Lane, 82; 4. Alex McWilliams, 0.