BFO RETURNS TO WACO 
The Cavender's Cup will be held on Sunday, October 18th 
WACO, TX – One of the most exciting events of 2019 was BFO's "One HOT Bullfight" held at the Extraco Events Center. 
While 2020 has been a year of turmoil and uncertainty for so many, BFO is proud to partner with the Heart of Texas (HOT) Fair and Rodeo to bring the most thrilling ticket in live action sports back to Waco.  
"With about 75 percent of our events cancelled this year, we are ready to bring the fans a show!" said a reinvigorated Weston Rutkowski, the 3x BFO World Champion.  "We live for this adrenaline and nothing compares to freestyle bullfighting." 
"Last year we debuted One HOT Bullfight and it was a tremendous success performing to a full house in the Extraco Coliseum. We are excited to continue our relationship with Bullfighters Only and bring this great, high-energy show back this year. We believe it is the perfect way to close out our 2020 rodeo," said Heart O' Texas Fair & Rodeo CEO and President Wes Allison.
Along with the coveted Cavender's Cup, the best-of-the best, including dominant 2019 World Champion Aaron Mercer, will be competing for a purse of $10,000. 
They will have their skills tested against an equally stellar pen of fighting bulls.  BFO Stock Contractor Troy Bradshaw of Penthouse Fighting Bulls explains, "I have some hot bulls that have been ready to see action all year. With the talent BFO has coming, I have no doubt there will be plenty of electricity and some 90-point fights."  
The HOT Fair and Rodeo leadership will take all necessary precautions to ensure a safe environment for fans.  Seating will not be at full capacity, so make sure you get your tickets in advance! 
The BFO Cavender's Cup takes place on Sunday, October 18th at 7PM inside the Extraco Coliseum in Waco, TX.  Tickets go on sale Tuesday, September 8th.  For ticket information, visit www.hotfair.com.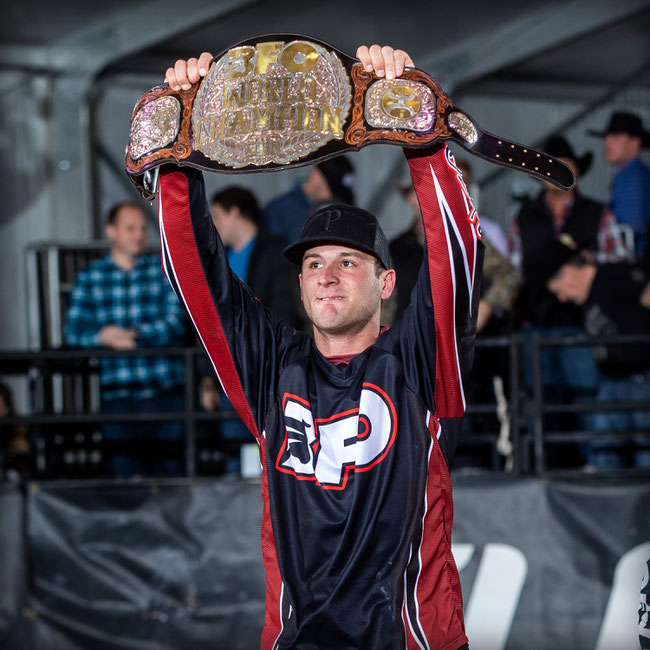 MERCER IS READY FOR 2020
Reigning BFO World Champion's sights are set on new season
LAS VEGAS – Only a year ago, Aaron Mercer was in the feeling out stages of his freestyle bullfighting career. 
My, how things have changed. Since he burst onto the scene in April, Mercer has been a dominant force and recently wrapped up the 2019 campaign by claiming the specially designed BFO World Champion title belt. 
It didn't come easy. To make it that far in such a short timespan, Mercer harnessed an incredible amount of athletic ability. He mixed it with intensified training at BFO Development Camp in Georgia and a lot of hard work, and it paid off to the tune of $121,350 in annual earnings. 
"I remember going to D-Camp feeling so out of place," said Mercer of Calgary, Alberta. "I didn't even think they liked me, because I was just a yappy Canadian. Then I went to Ada (Oklahoma), and they realized they had to deal with me. 
"I just kept progressing, kept working hard at it. I had lots of people pushing me, and that's what makes the BFO so great. In every bullfight, I just wanted to do better." 
He was quickly accepted into the strong core of combatants, men who cheer on their opponents while also trying to outscore them. The camaraderie in freestyle bullfighting is unmatched, and Mercer felt that right away. 
"I pushed myself to the end, even to the point to where I was wearing myself out and fought poorly," he said. "I took time off and got my mental game right before Las Vegas. What made it better was I had some great friends, Justin Josey and Colt Oder. They just pushed me to do so much more than I thought I could do." 
He also had the other top bullfighters in the game pushing him at every competition. 
"Mercer had a great year," said Weston Rutkowski, the three-time world champion from Haskell, Texas. "He's been consistent all year, and that's what you like to see. You want to go up against guys like that. That's why I fight in the BFO."
Mercer was definitely that guy in 2019. He entered the year-end championship with $61,350 in earnings, then added $10,000 to that on the first day by winning the Roughy Cup. That was enough to secure his world championship before the bulk of the Las Vegas Championship began. 
"Mercer has been lights out all year," said Beau Schueth of O'Neill, Nebraska. "He has been able to stay healthy and go to all the events he wanted to. That's a deadly combination. It's not that he just went to the, but he did really good at all of them."
It's all about the passion and drive he's gained in the last year competing at the most elite level in freestyle bullfighting. 
"We love it; we live for it. There's no better feeling than tearing up a bull," he said figuratively, "I was lucky to train with (Dusty) Tuckness for a couple of weeks before Vegas. He helped me crisp up some things. 
"That ultimately saved my ass, and that saved me going into the finals. I'm definitely going back to his place for more workouts. They are more "kill you" workouts, but it's all for the greater good. There's a reason why Tuck's the greatest of all time." 
Mercer would like to add his name to the list of bullfighting greats, which includes many of the BFO pioneers. He's got a lot of work to do though, as his career is still in its infancy. 
Nonetheless, he has a big target on his back heading into the 2020 season. 
"This just means I've got to do that much more work to stay on top," he said. "I've always had confidence going into the bull ring. There's fear in everybody's eyes, so you've just got to overcome it. 
"Now, somebody else wants that damn title belt. Bring it on. I hope they're working as hard as I am."
The biggest lesson he's taken since signing up to be part of the BFO: those who handle business outside of the arena fare better inside of the arena. By harnessing that knowledge, he's been able to progress extremely quickly as he heads into his sophomore season. 
"I'm also very receptive to watching movements, mimicking movements," Mercer said. "I watch the greats. I watch the best going. I try to take that into what I do as a bullfighter. 
"I watch Beau Schueth every day. I watch Tuckness, Cody Webster. I watch Josey and Weston. I want to put all that into my tool bag. I say 2020 is going to be a year to remember. It's going to be the best year Bullfighters Only has ever had, and I'm excited to be part of it."
---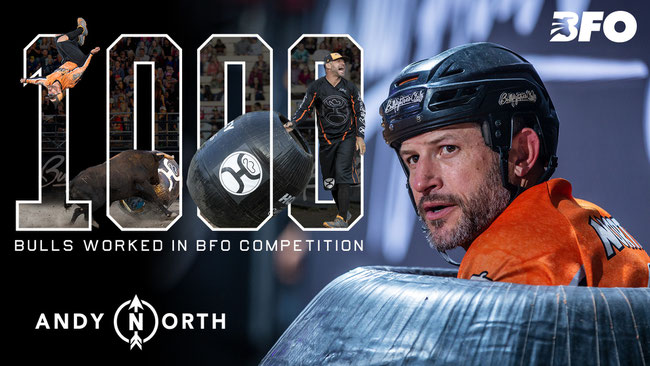 NORTH IS BATTING 1,000 FOR BFO
Renowned barrelman recognized in Vegas for protecting bullfighters
LAS VEGAS – Barrelman Andy North is the most respected man in Bullfighters Only, and that respect comes from the men he protects. 
"Andy is a man who has perfected his craft," said Aaron Mercer, the 2019 BFO World Champion from Calgary, Alberta. "He reads cattle and reads the situation, and he'll move when the bull makes the move to put a guy in a bad position. All of a sudden, he is there and saves your ass. 
"He's a man with a purpose. When he speaks, you listen." 
North is more than a man in a barrel, an enticing target for Spanish fighting bulls to hit. No, North is part bullfighter, part man in the can. He's done both for years, and he can read the bulls as well as, if not better than, the men he's there to protect. 
During the BFO's year-end championship in Las Vegas, North took part in his 1,000th BFO bullfight, a milestone that may never be matched unless he's the one who does it. It's a telling tale about his passion for the game while seeing – and feeling – the action up close and personal. 
"I think it speaks so much for the BFO," said North of Piedmont, Oklahoma. "I've fought 1,000 BFO fights, and I haven't fought all of them. I think it's awesome for Bullfighters Only and me personally for me to fight that many bulls for one organization
"I don't know how many barrelmen could say they have 1,000 bullfights for their career, much less for one organization. To be asked to come to these events consistently is a good feeling because of the company you're with, the men fighting bulls and their abilities. It's a blessing to get to do it over and over." 
It was only fitting that North's 1,000th bout came with Weston Rutkowski in the arena at the Tropicana Las Vegas. Rutkowski won the first three BFO World Championships, and North has been in the barrel for a majority of his fights. 
"For North, that's a milestone in his career," said Rutkowski of Haskell, Texas. "For me, it was satisfying, something I'll take with me for my entire career."
He did it while donning North's well-known orange jersey instead of Rutkowski's typical colors. 
"Putting on orange was me saying, 'Thank you,' " Rutkowski said. "It was me saying North has my respect and always will. I put away the green jersey, where it wasn't about me, and put it more on a guy that does so much more than he gets credit for." 
That's just the way North handles his business. He understands freestyle bullfighting, and he's thankful for its resurgence because of the BFO, showcasing the extreme sport in a way that is wrapped in beautiful production and provides an entertaining show for all who attend. 
"I love bullfighting," he said. "I love what we do. I like to see those bulls and how each bull has his own personality, how they want to fight. I like to see these kids coming up through the ranks. I've gotten to see a lot of talent come through. When you see that, you realize you are part of something special."
North is best known for making big-time saves when the bulls are taking it to the bullfighters. He uses handles attached to the inside to lift the barrel and then shuffles his feet to get in position. His speed inside of the barrel is unparalleled and his commitment to making the save often results in undesirable circumstances.
"I'm fortunate to be able to pull off some moves that a bullfighter does, but I'm doing it in a barrel with twice as many steps at half the speed," North said. "It's fun when you do it. When I'm watching a bullfight, I'm watching their technique, watching where the bull is. When those two things get out of line, it's a pretty good indicator of when I need to move. That's why those saves seem so big. 
"Have a helmet on has emboldened me. I feel like my head is protected, and I'm confident in my abilities and know where that barrel is going to end up. It's a high-risk high-reward kind of thing." 
The bullfighters appreciate it.
"Andy North's job is as important as having a good bull for a high score," Rutkowski said. "He can step in and change the way an injury can happen. You can slip, and North can make a few steps and take the bull away from you. 
"He can't stop every wreck from happening, but without North in the arena, there'd be a lot more wrecks." 
---