---
California is calling
Schueth riding a hot streak heading to historic bullfights in Salinas
SALINAS, Calif. – There is no hotter man on the Bullfighters Only tour than Nebraskan Beau Schueth. 
He's performed well at nearly every stop he's made and is coming off first- and second-place finishes this past week. He won the title in Colorado Springs, Colo., then was the runner-up the next day in Fortuna, Calif. The weekend before, he won BFO-Vernal, Utah and placed second at the Cowtown Invitational in Calgary, Alberta. 
Now he's going to put his streak to the test during one of the longest running freestyle bullfights in the country, held in conjunction with California Rodeo Salinas. The action takes place Thursday, July 20th through Sunday, July 23rd.
"Ever since I started freestyling bulls, one of my goals is to fight in Salinas," said Schueth, 25, of O'Neill, Neb.; this will be his first venture to one of the most storied complexes in the game. "For bullfighters, it's a pretty historic bullfight and goes back to before bullfights were in the mainstream."
Two decades ago, freestyle bullfighting was a big part of rodeo. When the Wrangler Bullfight Tour was disbanded in 2001, the sport virtually went underground, but California Rodeo Salinas has kept the tradition alive. 
Bullfighters Only has created public demand for the sport. The bullfighters utilize their tremendous athleticism to try to outwit and outmaneuver equally athletic bulls, which are bred specifically for this type of fight. 
While this is a new stop for the Nebraskan, it's familiar ground for Toby Inman. The veteran has competed in Salinas a number of times, and he will return this week for the first time since 2010. 
"I won it in 2009," said Inman, 34, of Davis Junction, Ill. "It's one of those shows you can't really forget, and you meet so many great people there."
There is a grand opportunity for each individual in the game to cash in. in the BFO, dollars equal championship points. The man with the most money won at the conclusion of the 2017 season will be crowned world champion. A lot could change in Salinas. 
  "It's a big deal for me, especially coming back to bullfighting after taking several years off. I was lucky to even get in it this year, so I'm going to take it." Inman said. "There are a lot of opportunities to win it and a lot of opportunities to let it slip through your fingertips."
SALINAS CONTESTANTS
Beau Schueth
Weston Rutkowski
Toby Inman
Zach Flatt
Erick Schwindt
Cody Emerson
---
Inman wins Fortuna with a 90
FORTUNA, Calif – When Toby Inman started his final bullfight Friday night, he made a statement with a backflip over Costa Fighting Bulls' Little Foot. 
The Illinois bullfighter cleared Little Foot but landed on his knees. He picked things up in the championship round, matching moves with the feisty Spanish fighting bull for 90 points to win BFO-Fortuna. 
"What a good feeling," he said. "It's weird not walking around gimpy after a bullfight." 
He won his opening round, scoring 82 points, to join two other bullfighters in the short go-round: Zach Call of Mullen, Neb., and Beau Schueth of O'Neill, Neb.
"I was happy to get in the short-go because I didn't know if my bullfight was enough to get me there," said Inman, who bested the other two contenders: Schueth scored 86.5 points to finish as the runner-up, while Zach Call placed third. 
Tanner Zarnetski of Texarkana, Texas, earned a bonus for the best trick of the competition, and that had the veteran Inman thinking about what he wanted to do in the final round. 
"Tanner pulled off an incredible reverse knee fake, and my brain was telling me to either top that or go for the win," Inman said. "I wanted both. But I just went for the win and had a good time.
"I had an honest Spanish fighting bull and used it to my benefit." 
Little Foot has gained a reputation for being a solid bull. He helped Evan Allard to the victory in Pendleton, Ore., and guided Cody Webster to the championship in Caldwell, Idaho; both events were during the BFO's inaugural tour in 2016. 
"I made some rounds and some nice step-throughs," Inman said of his bout. "He clipped me once, but it wasn't enough to be a deduction. He just kept coming, then I gave him a break and jumped him. About that time, the (40-second) buzzer went." 
At any time after 40 seconds, bullfighters can end the fight, and that's just what Inman did. 
"It was so jam up that I didn't want to quit, but that little voice in my head said it was good enough," he said. "I decided to take it. 
RESULTS
Round 1: 1. Zach Call, 78 points; 2. Tanner Zarnetski, 72; 3. Garrett Wilkinson, 72.
Round 2: 1. Toby Inman, 82 points; 2. (tie) Dayton Spiel and Ely Sharkey, 74.
Round 3: 1. (tie) Beau Schueth and Alex McWilliams, 80.5 points (Schueth advanced on tie-breaker); 3. Schell Apple, 73.
Championship Round: 1. Toby Inman, 90 points; 2. Beau Schueth, 86.5; 3. Zach Call, 78. 

---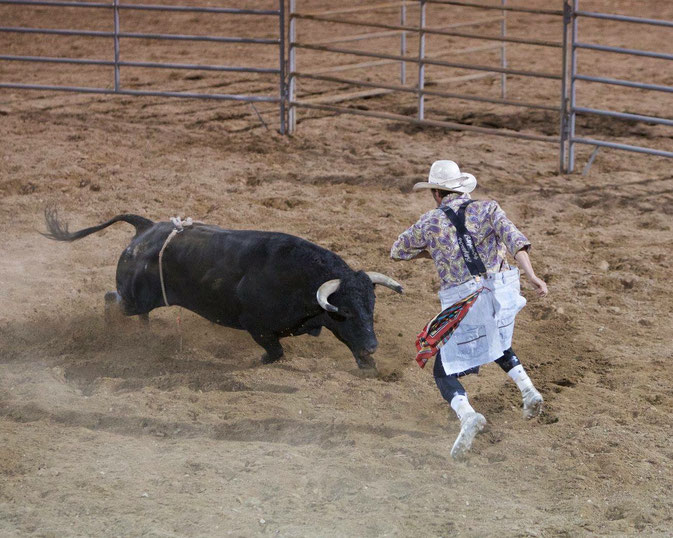 Bouts in the Redwoods
Bullfighters Only taking its game to the northern California town of Fortuna
FORTUNA, Calif – If quad racing wasn't an extreme enough event for fans in this northern California community, Friday's event is about to be intensified.
This year's event will include nine of the greatest men from Bullfighters Only, a wild and Western way of showcasing true athleticism in the form of freestyle bullfighting. One man vs. one beast in a 60-second bout that features aggressive fighting bulls and men who maneuver around them while staying within inches of their pointy horns and stomping feet.
"We're going to introduce the sport to a gnarly bunch of people," BFO founder Aaron Ferguson said. "There is a track that's probably 100 feet around, and they race and party all day. it's going to be incredible."
"I've heard we're going to be surrounded by Redwoods, and there's a lot of money up for grabs," said Beau Schueth, the No. 5 man in the BFO Pendleton Whisky World Standings from O'Neill, Neb. "It's a good time for the bullfight too, because we can work that event, then just stay in California until we have the bullfight in Salinas (Calif.)."
Toby Inman of Davis Junction, Ill., is returning to the ring for the first time in more than a month, and he's ready to get back to work in the game he loves.
"I think I might have forgotten how to do it," he said with a laugh. "I'm excited, because I have it in my mind that I'm going to win. Of course, if you don't have that mindset, then I guess you probably shouldn't be doing this."
The event will feature nine bullfighters, competing in three rounds of three-man bouts. The top scores will advance to the championship round, and the high score there will claim the title.
Freestyle bullfighting is not new but the Bullfighters Only has created public demand for the sport. The events feature man vs. beast in a head-to-head battle inside an arena. The bullfighters utilize their tremendous athleticism to try to outwit and outmaneuver equally athletic bulls.
BFO-Fortuna is one of two events taking place this week, with BFO wrapping up last night the in Colorado Springs. Beau Schueth was crowned the champion on Thursday night, and will look to keep his streak alive in Fortuna on Friday.
CONTESTANTS
Beau Schueth
Zach Call
Ely Sharkey
Tanner Zarnetski
Toby Inman
Schell Apple
Dayton Spiel
Alex McWilliams
Garrett Wilkenson
---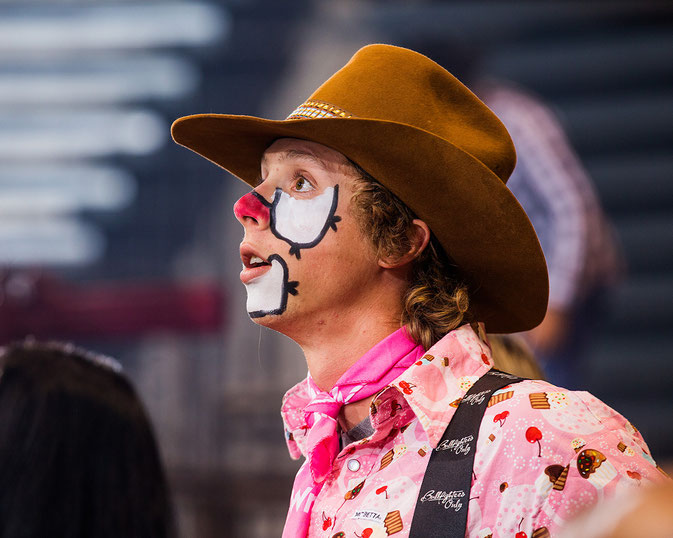 Josey is back for the action
Oklahoma man returns to the game he loves with Bullfighters Only
VERNAL, Utah – Justin Josey's head wasn't in the game.
When the game is freestyle bullfighting, men must be on top of every situation, or the outcomes could be deadly. The Spanish fighting bulls are mean and aggressive, and it takes a bullfighter who is not only fleet of foot but also can react and control the animal's actions.
"I didn't think I was fighting bulls the way I wanted to be," said Josey, 22, of Apache, Okla. "I decided to take a breather … for about nine months."
It did wonders, and he returned to the ring for the Bullfighters Only-Vernal competition, in conjunction with the famous Dinosaur Roundup Rodeo. Josey scored 83 points with a textbook bout against Manuel Costa's "Thumper".
"I've never been so excited for a bullfight in my life," he said. " I'm all kinked out instead of kinked up."
That time away from the arena was just what the young bullfighter needed.
Whether it was a bit of discontent with his work or a bit of burnout that comes with a game as dangerous as freestyle bullfighting, he was not in the right frame of mind to do what's necessary.
"Josey is one of those kids that just has raw talent," said Weston Rutkowski, the reigning BFO world champion who sits No. 2 in the 2017 Pendleton Whisky World Standings. "He's very flashy and can surely wow the crowd.
"Fighting bulls is a lot more mental than it is physical. In this game, I think it's smart to step away from fighting bulls if your mind and heart aren't into it. I think it was a good move for him, and now I'm interested to see how he handles it."
"I didn't realize how much I loved an animal like I do the Spanish fighting bulls," Josey said. "I'm just excited for the opportunity to work with these bulls again."
Getting back into the game wasn't easy for the Oklahoma talent, and he had to gain the approval of the 13 other BFO Pioneers.
"We all love Josey and no one was mad when he decided to step away," said BFO founder, Aaron Ferguson. "BFO is a platform for the best bullfighters in the world and Justin is one of the best. I am excited to see him back in the arena with some fresh perspectives."
"Being part of the BFO means everything," he said. "Ever since I first started, I wanted to be the best freestyle bullfighter to do it. At one point, I lost my vision of that goal. I think the thing that works is that you have the best in the business in the BFO. What's a world championship if you're not going against the best in the world.
"Whenever you wear that gold buckle around, you want to say you won it against the best guys in the world and fought the best bulls in the world. That's what the BFO brings."  
---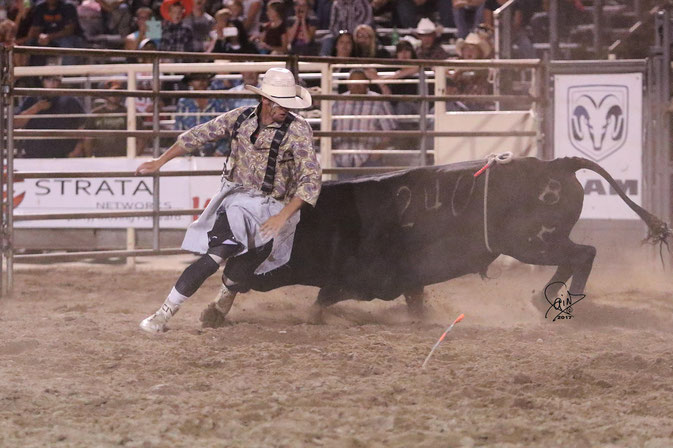 Schueth returns to winner's circle
VERNAL, Utah – Beau Schueth finally got what he's been looking for over the last 11 months.
"It definitely feels good to finally get a win," said Schueth, who earned the Bullfighters Only-Vernal championship which took place in conjunction with the Dinosaur Roundup Rodeo. "That's pretty huge."
Schueth opened the three-day bullfights by matching moves with 12X and Costa's Portuguese Power for 85.5 points. He then held on with the highest bullfighter score to win the tie-breaker over Dayton Spiel of Parade, S.D., to claim the title – Spiel posted his 85.5-point fight on Saturday, the final night of the competition.
"I thought I had a good bullfight, but I didn't know if 85.5 points would hold up," said Schueth, 25, of O'Neill, Neb. "Now that I've got the W, I'm looking to keep things rolling through the next few weeks."
Once the powerful black bull locked in on Schueth, the fight was on.
"He was a real stout black bull," he said. "I like starting them with a fake to my right. Just looking at him, I didn't think he was going to really blow through (the fakes) hard, so I knew it was going to be a tight bullfight the whole time. Luckily I had a back fake out of there after I made a couple of rounds and step-throughs."
As the fight progressed, Schueth was the aggressor and continued to keep the bull within firing range. That's important in freestyle bullfighting, because half the score is based on the animal, its willingness to stay in the fight and its aggressiveness.
Schueth's final maneuver – the one he was "selling" the fight on to hopefully impress the judges even more – was to be his patented "Spine Grind", in which the he jumps over the bull and lightly touches the animal's back with his cleats; it's much like how skateboarders and snowboarders grind on a rail.
"He got my drag foot and flipped me over," Schueth said. "At least I got over him, but I would've liked it better if I'd been able to land on my feet.
"He was definitely a fun little bull, but you know you're going to fight good ones when Manuel (Costa) brings the pen."
The weekend marked BFO's first trip to Vernal. By being out the first night, Schueth noticed that the crowd didn't know what to expect at first. That changed quickly.
"Once they figured out what we were doing, they really got into it," he said. "They loved it. It was cool to see how much they got into it. That was awesome."
RESULTS
Round 1: Beau Schueth, 85.5 points; 2. Weston Rutkowski, 82; 3. Zach Arthur, 75.
Round 2: 1. Evan Allard, 78 points; 2. Travis Gidley, 73.5; 3. Ely Sharkey, 70.5.
Round 3: Dayton Spiel, 85.5 points; 2. Justin Josey, 83; 3. Kris Furr, 75.
---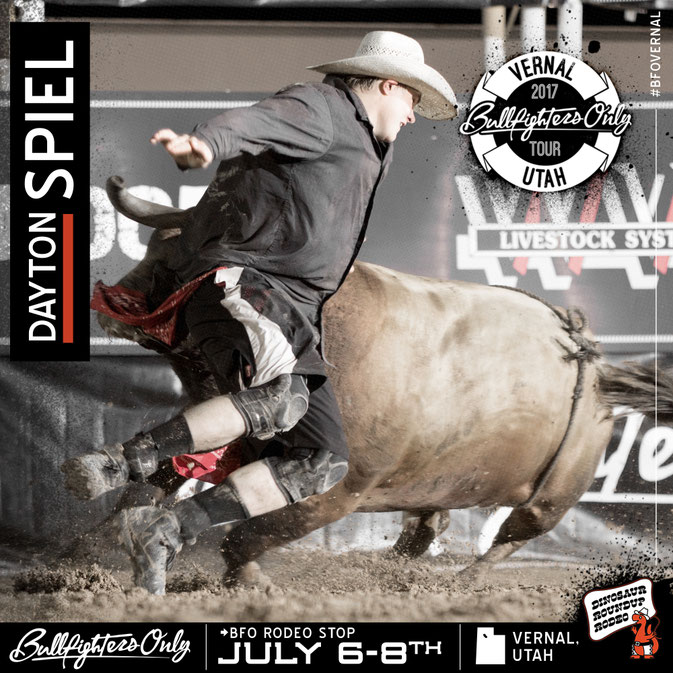 Spiel making a statement
Young South Dakotan is excited to be part of Bullfighters Only season
VERNAL, Utah – Dayton Spiel is just 22 years old, but he made quite an impression in his first Bullfighters Only competition a month ago.
Spiel finished as the runner-up at the BFO Cavender's Cup in Decatur, Texas. What makes it more impressive is that it was just his first freestyle bullfighting competition ever. He's about to embark on his second event with the BFO this week in conjunction with the Dinosaur Roundup Rodeo, with performances beginning at 7 :30 p.m. Thursday, July 6-Saturday, July 8, at Western Park in Vernal.
"I showed up one time, and now I've got to prove to everybody that I can stick around and hopefully do it for the whole tour," said Spiel, who lives in the tiny town of Parade, S.D., a community of 10 people on the Cheyenne River Reservation. "I'm going to make a statement, and I hope it's a good statement."
He is part of the Bullfighters Only Developmental Camp system, where top athletes are selected from around the country to train with the BFO's top athletes. Spiel advanced to the BFO Super Camp, which took place the week after Memorial Day in Decatur. He won a qualifying competition to be part of the Cavender's Cup, where he faced Bullfighters Only's greatest stars including the famed bull "Chute Boss".
"Freestyle bullfighting is a rush, and the atmosphere with that group of guys is outrageous," he said. "It's like nothing I've ever experienced, and you can beat it. The environment you are in and the talent involved with BFO is unbelievable."
Spiel was raised around rodeo. His father was a saddle bronc rider, and he and his brothers have ridden broncs and bulls. He found his way to protection bullfighting by chance.
"I jumped in the practice pen in junior high," he said. "I fought a bull riding in my seventh-grade year because a guy got hurt. I've been doing cowboy protection, but I wanted to learn more about freestyle, so I went to a school with (BFO pioneer) Nate Jestes. He told me about the BFO.
"To be part of BFO right now and to be the first Super Camp selectee is amazing. That's something I'll probably hold onto forever."  
He brings a natural touch to the game and a size advantage never before seen in bullfighting at 6'5" tall.
Freestyle bullfighting is a true man-vs.-beast game of skills, courage and the ability for a bullfighter to use his own athleticism against an athletic and quick Spanish fighting bull that is bred for this kind of fight.
By growing up on a ranch, the long, tall cowboy has a solid foundation.
"Dayton has been around livestock his entire life and is able to read and react," BFO Founder Aaron Ferguson said. "Any time you're around animals, it helps you read them and how they move."
Spiel put his talents to the test in Vernal. The competition features three three-man bullfights, one for each night of the rodeo. The high score from all three nights will receive a cash bonus.
"I've been working hard. I've been able to put in two-a-days when I'm not working cowboy protection, and on those days that I am fighting bulls, I'm still working out at least once a day. I'd say I'm definitely more mentally ready, so we'll see how it goes."
Now he hopes all that work pays off. Not only will he be competing this week in Utah, he will be part of a small stand-alone event next week in Fortuna, Calif.
"It's still new, so it all hasn't really hit me yet," Spiel said. "I want to prove to myself that the first time wasn't a fluke. My goal is to be in Las Vegas this winter and run at a world championship.
"But I'm still a little star struck that I'm in that elite group of guys. I never thought I'd be in there, and it's so amazing."
So is Dayton Spiel.
---
Burelle's Picks - Vernal, UT
In Round 1, Weston Rutkowski should continue to roll as long as he can stay off the fence. His win in Cody over Tuckness should help his confidence and get him back to fighting in the middle of the pen. I don't think Zach Arthur has the legs under him to run with the big dogs yet, and Beau looked great in Cody but was still lacking that flash he needs to win.
Round 2 goes to the veteran, Evan Allard. I just think he fights bulls to smooth and has to much experience for either of the young kids to beat him out. I know Travis Gidley learned to fight bulls under Evan but you can bet he hasn't taught him everything he knows yet.
Round 3 should be the most exciting round of competition. Dayton Spiel put on an amazing fight against Chute Boss in Decatur and will be feeling bold when he shows up in Utah.  We'll also see the return of Justin Josey, who after some time away from the sport seems to be craving fighting bulls again. But, I am going to give the victory in this round to Kris Furr. He is a rookie on the BFO tour but not a rookie bullfighter. Furr showed us how good he is at his debut event in Lewiston, Idaho and I think he is going to start moving up the Pendleton Whisky World Standings pretty quickly.
---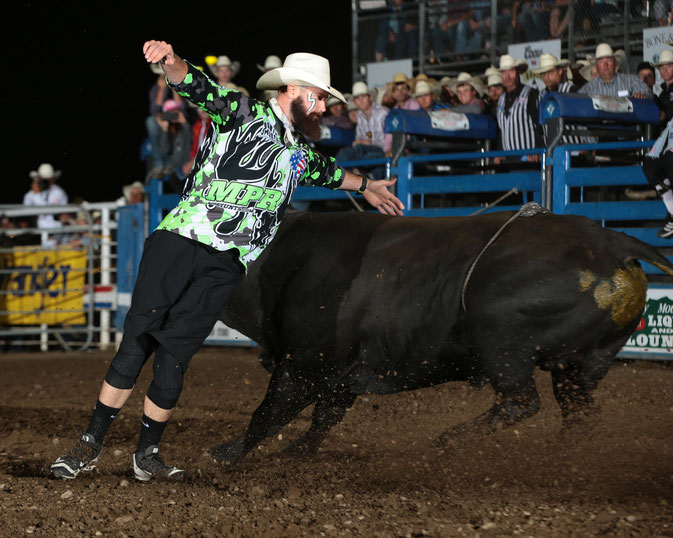 Rutkowski wins Cody title
CODY, Wyo. – The reigning Bullfighters Only world champion has regained his form.
Weston Rutkowski showcased his true talent during Friday's BFO competition in conjunction with the Cody/Yellowstone Xtreme Bulls, matching moves with WAR Fighting Bulls' War Machine for 86.5 points.
He upended the BFO Pendleton Whisky World Standings leader Dusty Tuckness, who earned the championship in Cody a year ago. It also moved Rutkowski to within reach of Tuckness' standings lead heading into a stretch of rodeo runs that will make up most of the summer.
"I feel like I handled business, but there were a few things I would change if I could," Rutkowski said. "He was wanting to blow through my first two fakes, so I knew if I kept hitting him, he would end up quitting.
"I was playing a chess game to stay close enough to keep him firing but trying to stay out of his way."
After a couple of solid fakes, Rutkowski made a round to keep the bull close, then set up another fake.
As the bull charged again, the bullfighter allowed the animal to slide by with a cape maneuver – as the bull steamed past, Rutkowski held his left arm over the animal as if it were passing through a matador's cape.
The moves kept coming, with the tandem circling once followed by Rutkowski throwing another fake. As the bull moved past, the bullfighter kept circling with the bull to maintain that contact. But War Machine took control quickly.
"I got caught trying to keep that bull engaged," he said, explaining how War Machine had him scrambling up the fence. "Sometimes you get where you can't get out. Fortunately, I was able to get back in the fight and make my sell."
Rutkowski closed the bout by cross-jumping the bull and showing the big crowd in Cody that he's no longer suffering from groin and calf injuries that had plagued him late in the spring.
"I'm 100 percent, but that was after I took all of June off," he said. "I needed it. I was able to do a lot of light workouts and rehab.
"I've got a feeling it's going to be a good summer."  
---
ANDY BURELLE'S PICKS
Before each event, freestyle bullfighting legend and BFO color commentator,
Andy Burelle makes his predictions. Comment below if you agree or disagree!
Cody Stampede - June 30th, 2017
In my opinion this comes down to two guys in this bullfight. It's "The Beard" VS "The Legend", and I think Rutkowski and Tuckness are going to have an epic battle. I don't think the other three men are going be able to hang, and I'll tell you why.
Tanner Zarnetski is closing in on the top guys, especially with tricks like the new "kneel fake" he broke out at the Cavender's Cup. He could almost be called a contender but isn't quite there yet.
Beau Scheuth is handy but I just don't think he's flashy enough to take on the leaders. He looked pretty good in Decatur against WAR's Zombie Express but needs to show more consistency. 
Tate Rhoads has been looking good recently with a couple straight short round appearances but he seems to weaken in the last 15 seconds of his bullfight. If this kid would just step out of his comfort zone, he would watch his bank account grow.
Back to Tuckness VS Rutkowski: This is Tuck's hometown event and he won it last year. He will surely shine under the lights in Cody and the crowd and announcers will really get behind him which can be a major benefit. But, I'm a gambler and I'm going to have to pick the BFO Champ, Weston Rutkowski to win the event. He's been running scared at the last two events, both from the bulls, and Dusty (who passed him in the standings). He's had some time to get healthy so there should be no excuses. I think he's finally sick of losing to Tuck and "The Beard" is going to show us why he wears the 2016 BFO World Champion title belt.
---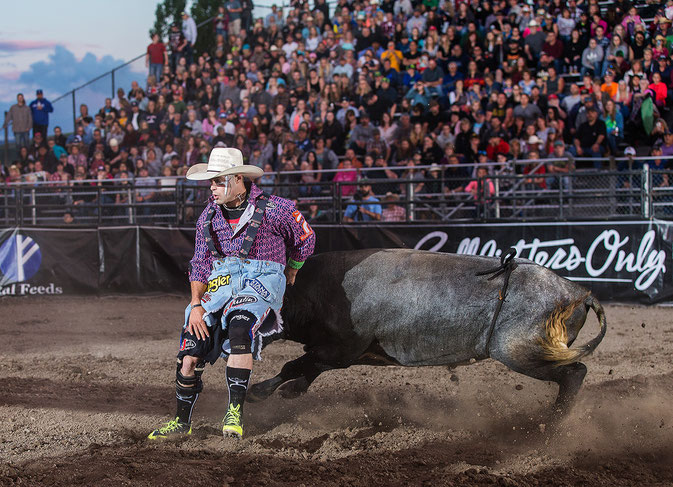 BFO to kick off Summer Tour
Cody Stampede will be the first of several big events for Bullfighters Only
The Cody (Wyo.) Stampede is one of the most established events in the Professional Rodeo Cowboys Association, with a history that dates back nearly 100 years.
It's also the kick-off point for Bullfighters Only's summer run that includes more than a dozen events from June through mid-September. The namesake town of showman "Buffalo" Bill Cody is the perfect venue for freestyle bullfighting, the most extreme of all Western sports.
"Last year was our first year touring to rodeos," said Aaron Ferguson, the BFO's founder and CEO. "We learned so much and we're excited to go back and put on an even better show in Cody and everywhere we go.
"Cody is special because we've got Dusty Tuckness competing in front of his hometown crowd."
Tuckness is the seven-time and reigning PRCA Bullfighter of the Year from nearby Meeteetse, Wyo., and he leads the Pendleton Whisky BFO World Standings with $20,000 in earnings. He also is the reigning Cody Stampede BFO champion.
"It's always great to come back home to not only compete but also work the rodeo as a whole," Tuckness said. "To be able to bring the BFO along makes it that much better."
Tuckness is a Bullfighters Only pioneer, a group of elite bullfighters that have been part of the BFO since its inception back in 2015. Because Cody is just 30 miles from Meeteetse, it's the perfect place for Tuckness to showcase his tremendous athleticism in front of his friends and family.
"I think it's going to be a great competition this year," Ferguson said of the Cody bullfight. "Our contractor, WAR Fighting Bulls, just moved to Montana and has an awesome pen of bulls. We've got a good lineup of bullfighters again this year as well."
That lineup includes the reigning world champion, Weston Rutkowski of Haskell, Texas.
"When I got to Cody last year, I didn't know what to expect," said Rutkowski, the No. 2 man in the standings. "Just being a kid from west Texas, I didn't know what I was getting myself into. But I learned just how big that rodeo is, that people come from all over the world to see it.
"It was very eye-opening to see how much people loved it. It's telling of how big the bullfights can really be."
That's the kind of reception the bullfighters began seeing at all of their summer rodeos, and there's no reason to expect anything different this year. Bullfighters Only will also have events virtually every week through early September.
"After Cody, we're hitting a lot of other big rodeos, starting with Vernal (Utah) being the next major stop," Ferguson said of the July 6-8 event. "It's one of the coolest rodeos in Utah. The crowd likes to party, and it's a rowdy place which makes for good bullfights."
The BFO will then have a two-day stop in Colorado Springs, Colo. during the annual Pikes Peak or Bust Rodeo before a mini stand-alone bullfight in Fortuna, Calif., on July 14.
"We will have three, three-man bouts in the first round, and the winners advance to the short round," Ferguson said. "It's an amazing setting, too, with massive Redwood trees in the background."   
After the event in northern California, Bullfighters Only returns to the rodeo schedule. You can find the full schedule and more atwww.BullfightersOnly.com. 
Injury Report
Three of Bullfighters Only's top men are on the sidelines as they recover from injury. Ross Hill of Muscle Shoals, Ala., and Nathan Harp of Tuttle, Okla., are out for four to six months with ACL injuries, and Cody Greer of Pryor, Okla., is out at least another couple of weeks after suffering a broken tailbone at the Cavender's Cup.
---