Top bullfighters return to Reno
Wrangler Bullfight Tour stop to feature 6 of the top 7 in the BFO
RENO, Nev. – Over the past couple of weeks, Colt Oder has experienced the highs and lows of freestyle bullfighting. He got tangled up with Rockin' B & Magnifica's Mexicano at the Bullfighters Only Wrangler Bullfight stop in Decatur, Texas, resulting in a concussion and six stitches.
"I was a little too aggressive. I didn't give myself a shot. I should have gone slower and read my bull better," said Oder, who rebounded a week later, posting an 83-point fight to win the Wrangler Bullfights Tour event at Crosby, Texas.
"Now that was a solid bullfight, and my fundamentals were there," said Oder of Moorspark, Calif. "My confidence is through the roof right now, and I'm ecstatic to be competing with the top guys in the game coming up."
Oder will be taking part in the BFO Wrangler Bullfights that will be part of the Reno Rodeo, one of the most storied events in ProRodeo. He'll be one of six men battling in the four-day championship. The event takes place June 19-22 – one of the first big stops through the summer run of rodeos.
"There is a lot of money up, so you have the opportunity to really cash in and move up the standings," said Oder, the No. 5 man in the BFO Pendleton Whiskey World Standings. "I'd really like to be a household name in the BFO."
He'll have that chance. The contestants make up a who's who of the top names in freestyle bullfighting: two-time reigning world champion Weston Rutkowski, top-ranked Toby Inman, second-ranked Kris Furr, Beau Schueth and Justin Josey. In fact, the Reno field features six of the top seven bullfighters in the Pendleton Whisky World Standings.
Josey won the recent BFO stop in Moose Jaw, Saskatchewan on June 9. He's already had a couple of big victories this year. In addition to winning north of the border, the Apache, Okla., man also won the Bullfighters Only stop in San Angelo, Texas, in February.
"I want to carry the momentum over into Reno and keep moving forward one step at a time. I want to keep learning what I can at each stop."
The dangerous game of freestyle bullfighting comes with a price. Toby Inman, who finished second in the 2017 season, suffered a cracked rib in Decatur, then was knocked unconscious in Crosby. Ely Sharkey was also knocked out, but only after securing his first BFO victory in Decatur.
"For me, it's just cool to compete against guys like Weston and Toby, because they're the very best," Josey said. "When you beat the top guys in the game, it just feels better. You have to step up your game to win at this level.
---
Ward wins Kennewick
Rookie scores 91 points to upend BFO's greatest stars
KENNEWICK, Wash. – It didn't take long for Justin Ward to find his comfort zone in freestyle bullfighting.
Just two months ago, he was part of the Bullfighters Only Development Camp in San Bernardino, Calif., learning the tricks of the trade. On Saturday night, he put together two winning bouts to upend a handful of veterans and win the BFO Tri-Cities Invitational in Kennewick.
"It was probably one of the greatest accomplishments of my life so far," said Ward, 22, of Richardton, N.D. "It means I can compete with the best, and hopefully I can eventually win a world title."
Ward was one of five rookies who were part of the Tri-Cities Invitational, and he escaped the rookie round with an 86.5-point fight to advance to the Hooey Championship Round.
"That was a tough long round," he said. "Competing against those guys and getting the top score in the long round was amazing."
Once in the Hooey Championship Round, Ward posted a 91-point fight. It was more than enough to claim the Kennewick title. Ward outscored Beau Schueth, Kris Furr, Weston Rutkowski and Dusty Tuckness. Schueth, who has several victories under his belt, finished second in Washington with an 89.5-point fight. Furr, the No. 3 man in the Pendleton Whisky World Standings, finished third at 89, while Rutkowski, the two-time reigning BFO world champion, placed fourth with an 88.
"I just had a good bull, probably the best one," Ward said. "It was a really tough short round. I'd say I was pretty confident freestyling before the weekend, but after going 91 points, I feel like I can definitely do it pretty good now."
Not bad, especially for a young man just two months into his bullfighting career. He's been working as a protection bullfighter for four years, and two mentors suggested he give freestyle bullfighting a shot.
"After going to the Development Camp, I realized it was fun, so I decided to stick with it," said Ward, who grew up roping and qualified for the College National Finals in steer wrestling before transitioning over to bullfighting. "Being part of the BFO is amazing, because it's the greatest bullfighters in the world. All I've wanted to do was be a professional bullfighter, and now I get to do it."
RESULTS
Round 1: Beau Schueth, 85 points.
Round 2: Weston Rutkowski, 88 points.
Round 3: Dusty Tuckness, 81 points.
Round 4: Kris Furr, 86.5 points.
Round 5: Justin Ward, 86.5 points.
Hooey Championship Round: 1. Justin Ward, 91 points; 2. Beau Schueth, 89.5; 3. Kris Furr, 89; 4. Weston Rutkowski, 88; 5. Dusty Tuckness, 86.
---
BFO Rookies Take Charge
Newcomers to test their skills against veterans in Kennewick
KENNEWICK, WA – It's hard to call Chance Moorman a professional bullfighter for a couple of reasons: He still hasn't graduated high school, so it's difficult to be a professional anything yet; he just started fighting bulls two months ago.
Nevertheless, he is one of two 17-year-olds in the mix of battle for the Bullfighters Only Tri-Cities Invitational, set for 7:30 p.m. on Saturday in Kennewick, Washington.
"To be part of Bullfighters Only is one of my greatest accomplishments," said Moorman of San Antonio. "I've always dreamed of being a professional athlete. I started fighting bulls, and I realized I was pretty good at it. I've followed bullfighting, and I've wanted to make it into this league. I finally got the opportunity to do it."
His father Cody was a bullfighter, so Moorman knows about the game. As a youngster, he rode steers but quit when he realized it wasn't his calling. Still, he found his athletic outlet in the traditional sports of baseball, football and basketball.
"My dad saw my ability and asked if I was interested in doing it," he said. "I've been practicing on my pitbull in the backyard, then I went to the Development Camps in Houston and San Bernardino."
He proved his ability during those March camps. A week ago, he was a last-minute replacement at the BFO's Fiesta de Toros in Woodward, Okla., where he posted an 86-point bout, the highest marking of the weekend. He advanced to the Hooey Championship Round, which was enough to earn a spot to test his talents again in Kennewick.
"To go in there with Toby (Inman) and Weston (Rutkowski) and all those guys and put up the biggest score is amazing," Moorman said. "It's something I've always wanted to do."
He will be one of 17 men competing in Kennewick, five of whom are rookies like Moorman. The field will also include local bullfighter Miles Barry, the 17-year-old son of longtime professional bullfighter Rowdy Barry.
"Probably the first animal I ever stepped around was a full-grown bucking bull when I was 13," Barry said. "When I first got to the age where I understood bullfighting, it just made sense. My dad's biggest help to me was the mental game.
"I have dreamed about being part of this since Bullfighters Only first came around. Now that I have a chance, I am very thankful, especially to compete against the best guys in the world at such a young age."
The event will feature five preliminary rounds of competition. There will be four, 3-man rounds, with the winner of each advancing to the Hooey Championship Round. The fifth round will feature five rookies who will also battle for their opportunity to advance to the final round.
This will be a showcase of truth athleticism, with many of the world's greatest bullfighters testing their skills against the agile, aggressive and speedy Spanish fighting bulls. Each bout will be 40 to 60 seconds of high intensity, with danger lurking at every turn.
Toby Inman is leading the Pendleton Whisky World Standings, but has been forced to bow out of the competition with a lower body injury. Reigning world champion, Weston Rutkowski, is starting to close the gap after collecting his first win of the season last weekend in Woodward, Oklahoma.
But there are a host of other bright stars, including Dusty Tuckness, a proven freestyle champion who has been recognized nine straight years as the PRCA's Bullfighter of the Year. He won both stand-alone event that he entered last year. (Lewiston and Decatur)
"The stand-alone bullfights like we'll have in Kennewick are really starting to shine," said Tuckness, one of the BFO's pioneers. "I think that's the direction that we want to take this, where we have stand-alone bullfights across the states featuring the top competitors that fight for big money. We put on a great production and show behind it.
"The production just keeps getting better. We have a small but very dedicated crew, and everybody's jumping in to make this wagon go forward. I think that's what's been behind the big success we've seen."
Besides the phenomenal growth of the BFO, the sport of freestyle bullfighting is at an all-time high. That's because of the groundwork laid three years ago by the bullfighters themselves. But it is only getting better, thanks in large part to the outstanding athletes that are moving up the ranks.
"The young group that's getting developed now shows that we have some of the most talented guys out there, and that's making everything better in freestyle bullfighting," he said. "The financial growth in the freestyle bullfighting world is awesome. It's cool that it has lit a fire back in the freestyle world.
"Guys that nobody ever got to look at before are now getting their opportunities to shine."
And that means stops like the Tri-Cities Invitational become more lucrative, making them more attractive to the top athletes in the game. Instead of fighting for hundreds of dollars at a time, the BFO is paying winners thousands of dollars on a given night. The champion in Kennewick will walk away with at least $10,000.
"My life has involved bullfighting since I was old enough to know what it was," Tuckness said. "It's a blessing. Now guys can make a successful living fighting bulls."
That's what makes Bullfighters Only the premier producer of freestyle bullfighting, and it's why the best in the game are part of it.
BULLFIGHTERS
Justin Josey
Tate Rhoads
Beau Schueth
Ely Sharkey
Weston Rutkowski
Zach Call
Colt Oder
Connor Rowley
Dusty Tuckness
Chris Furr
Caden Harper
Alex McWilliams
Seth Wilson
Justin Ward
Chance Moorman
Tucker MacWilliam
Miles Barry
---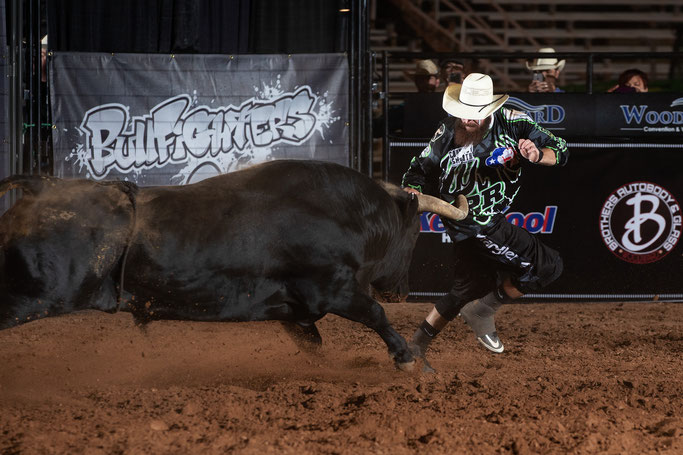 Champ returns to Victory Lane
WOODWARD, Okla. – After having early-season struggles, the champ is back.
Bullfighters Only's two-time reigning world champion Weston Rutkowski has returned to the winner's circle, putting together two solid bullfights to win the Fiesta de Toros in Woodward. It was his first victory of the 2018 season.
"Yes, I needed it for the standings point of view, but I really needed it more for the pure fact I hadn't drawn very well and needed it for my confidence," said Rutkowski of Haskell, Texas. "In all honesty, I didn't draw the bulls that are fun to fight at all, but it was what I needed."
It was similar to two heavyweight prize fights, with the bullfighter and the bulls throwing haymaker after haymaker. It wasn't a pretty dance like Rutkowski is known for, but a true slugfest through both fights. Sometimes, though, that's what it takes to be the best in the game.
Rutkowski advanced through the long round with an 84.5-point score. The Hooey Championship Round featured five long round winners, with three new faces to the game: Chase Blythe, Chance Moorman and Alex McWilliams. The only other veteran was Tanner Zarnetski, who finished in third place.
"That's what we've created with the BFO," Rutkowski said. "There are more kids coming up, and we're creating opportunities for those kids who are coming up through the Development Camps. There's a bunch of young talent, and they're coming in showing their A game. It's fun to watch."
Now the top bullfighters in the game will advance to the next event, another stand-alone competition in Kennewick, Wash. With his earnings in northwest Oklahoma, Rutkowski moved into second place in the Pendleton Whisky World Standings. He will continue to chase the season leader, Toby Inman.
For now, though, he's going to take a few moments to enjoy his first win in five months.
"When we pulled into town and up to the arena, I knew immediately why we were there," Rutkowski said. "The community really did come support the BFO. It was neat to see. They've had their share of tragedy with the wildfires, but they still came out and supported us. That was just awesome."
BULLFIGHTERS
Round 1 winner: Chase Blythe, 78.5 points
Round 2: Weston Rutkowski, 84.5
Round 3: Alex McWilliams, 84
Round 4: Chance Moorman, 86
Round 5: Tanner Zarnetski, 84.5
Hooey Championship Round: 1. Weston Rutkowski, 84 points; 2. Alex McWilliams, 78; 3. Tanner Zarnetski, 73; 4. (tie) Chase Blyth and Chance Moorman, no score.
---
BFO CELEBRATING CINCO DE MAYO WITH STYLE
WOODWARD, Okla. – The Cinco de Mayo celebration dates back more than 150 years.
Northwest Oklahoma will honor that Mexican heritage with Bullfighters Only Fiesta de Toros, set for Saturday, May 5, at Crystal Beach Stadium in Woodward. It will be a display of amazing athleticism as 15 men battle during this stand-alone freestyle bullfight while matching their talents with agile and aggressive Spanish fighting bulls.
"This is our first time to host a bullfight in that part of Oklahoma," said Luke Kaufman, Bullfighters Only's Production Manager. "There are a ton of freestyle bullfighting fans in that region. This is our chance to show them just what the BFO is about."
Bullfighters Only was developed three years ago, by the bullfighters themselves. Since then, the sport has been showcased all across North America and has become a fan-favorite.
The element of danger comes in the nearly 1,500 pounds of Spanish fighting bull that is just half of the equation in each bout. They've been bred to use their horns, their heads and their hooves as tools of destruction.
In the other corner is the bullfighter, whose goal is to maneuver around and jump over the animal. The idea is to get within a breath the danger and escape unharmed. But the bulls have the upper-hand, and wrecks can happen quickly.
"The BFO is really good about bringing top-of-the-line stock contractors, keeping the standard as high as it can be," said Schell Apple of Fay, Okla. "With these Rockin' B & Magnifica, we're getting the best of the best bulls."
It's just another flavor added to the mix that helps make Bullfighters Only the premier organization in the sport.
BULLFIGHTERS
Weston Rutkowski, Haskell, Texas
Toby Inman, Davis Junction, Ill.
Beau Schueth, O'Neill, Neb.
Zach Call, Mullen, Neb.
Justin Josey, Apache, Okla.
Colt Oder, Moonpark, Calif.
Schell Apple, Fay, Okla.
Tanner Zarnetski, Texarkana, Texas
Miles Jones, Hickory, N.C.
Jimmy Essary, Somerville, Tenn.
Caden Harper, Woodward, Okla.
Knox Dunn, Louisiana
Tanner Brantley, Okla.
Alex McWilliams, Cali.
Miles Jones, Ala.
More TBA...
---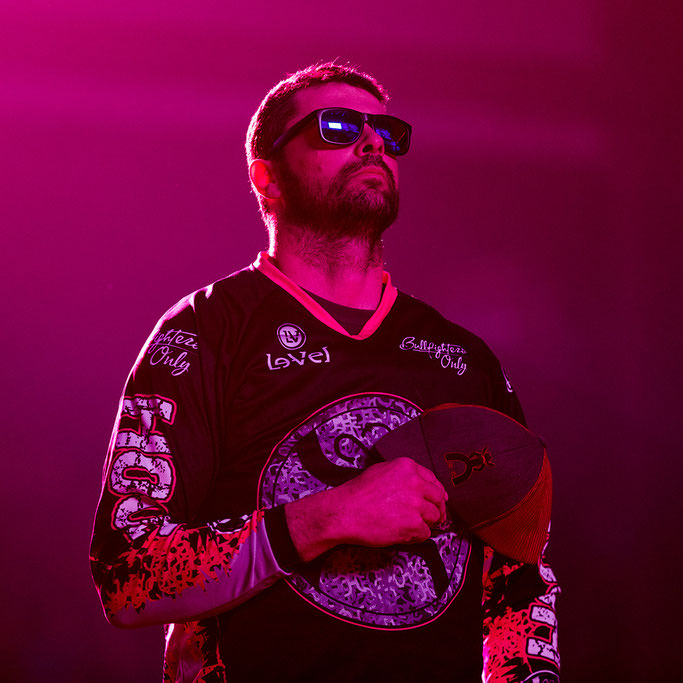 ---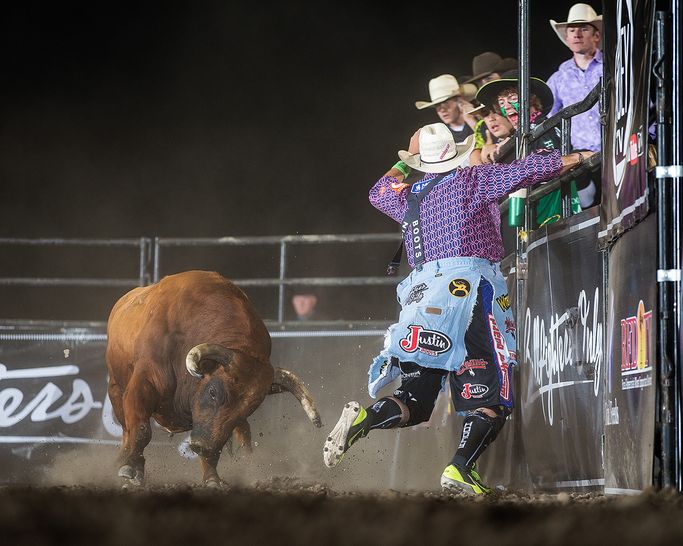 TUCKNESS FIGHTING ON FAMILIAR TURF
Bullfighting legend returns to battle on hallowed ground
ADA, Okla. - It is the building where legends were made and where bullfighters have fought for a name. For years, the sport of freestyle bullfighting clung to life inside the walls of the Pontotoc County Agri-plex.
Ada is a quiet college town in central Oklahoma, but the name has long been synonymous with the freestyle bullfighting community. Legendary bullfighter, Rex Dunn, produced the first bullfights there in 1999 and continued until 2012.
Much to the delight of the local bullfighting fans, Bullfighters Only brought the fights back to Ada in 2017. They'll return for two nights this year - April 13th & April 14th at 7:30 pm nightly.
In 2006, Dunn invited a young rookie by the name of Dusty Tuckness to Ada for the first time.
"That was kind of the measuring stick at that time," Tuckness said. "Dunn didn't have the sweet, nice, fun bulls. He had a lot of great bulls, but he had a lot of intimidating bulls. You'd kind of get thrown to the wolves, and see if this is something you can survive."
Tuckness has been a large part of the evolution that bullfighting has recently underwent. Many of his methods have been adopted by other bullfighters.
"The changing of the sport is just like any other sport. It's evolution," Tuckness said. "The only difference from when I first started to now is the depth chart and consistency in the lead freestyle bullfighters."
Going into Ada's event, Tuckness's focus isn't on his competitors but on out-maneuvering his bull.
"I'm never really going against whoever is in my round," he said. "The winner of the round gets to advance to the short round. But for me, my deal is going to beat my bull. If I can't beat my bull, then I can't beat anybody."
Ada's event will consist of two separate rounds. On Friday night, sixteen emerging talents will compete in a tournament-style bracket with only four bull of them advancing to Saturday night.
They will get their shot against Tuckness, along with BFO's top eleven bullfighters, who are seeded to compete.
The BFO, like Tuckness is a large part of bullfighting's evolution. The BFO got its footing only two years ago and has grown vastly since. What started as a social media page featuring bullfighters, has quickly grown into a premiere touring series.  
"I think what I see the sport coming to is multiple stand-alone events, a bunch of prize money, big sponsors and TV exposure. A place where bullfighters and athletes can make a really good living." Tuckness said.
That is exactly what Dunn was aiming to do for bullfighting, and the BFO is carrying that evolution into the future. Dunn's legacy remains in the town of Ada, and because of his events it is a town full of bullfighting fans.
"A lot of guys who've come through the BFO have participated and come up through Rex Dunn's events in Ada," Tuckness said. "It's really cool to be a part of not only the BFO, but to see it come back to Ada. A place where Rex Dunn started the event, and now we get the chance to continue to grow the sport the that community loves."

---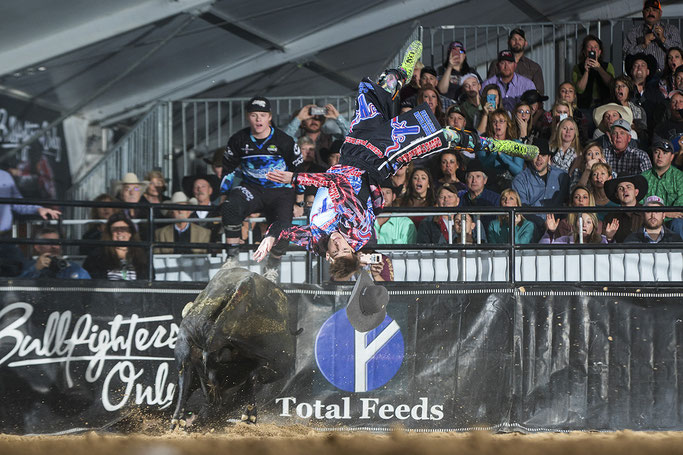 FRESHMAN CLASS STEPPING UP
BFO-Ada will feature talented cast of bullfighters in Friday's Qualifier Rounds
ADA, Okla. – Twelve emerging freestyle bullfighters will have a chance to make their presence known during the Qualifier Rounds for the Bullfighters Only Ada Invitational, set for 7:30 p.m. Friday at the Pontotoc County Agri-Plex.
"I'm on the hunt, and I'm not going to stop until I've accomplished what I want. That's to be among the best in the BFO" said Tori Ozane, 32, of Westlake, La.
Ozane is a bullfighter and has been for years, but he wants much more, and that's what Bullfighters Only offers. He took part in the BFO Development Camp in Houston last month, where his impressive performance earned him an invite to this weekend's battle.
In fact, nine former D-Camp attendees are set to compete this weekend: Dayton Spiel, Seth Wilson, Colt Oder, Caden Harper, Kris Buffalo, Chase Blythe, Brooks Forsythe and Justin Ward.
Friday's competition features 4 rounds, with 4 bullfighters in each round. The winner of each round will advance to Saturday night to compete against the BFO's top 12 athletes. It's the BFO's first stand-alone event of the 2018 BFO season and bullfighters are vying for valuable points towards the Pendleton Whisky World Standings.
"I want to go in and make a statement," said Ozane. "I'm looking forward to it, and I'm actually relaxed; more relaxed than when I went to the D-Camp."
Some of that has to do with the intensive training Ozane received and he wants his fight to stand as a showcase to the work he's put in since the combine.
"The one thing I learned most was to believe in myself and in my ability," he said. "I got with (reigning world champion) Weston Rutkowski, and he's been talking to me every day since I left camp."
Brooks Forsythe – who grew up in South Carolina and now lives in Pueblo, Colo. – attended the D-Camp in San Bernardino, Calif and claims it was best experience he's had since he started fighting bulls.
"I knew those guys could help me quite a bit," Forsythe, 24, said. "It was designed to where you were working on the things you need to be a good freestyle bullfighter. They could break down what I was doing before they even saw me fight."
Now his name is in the hat with some of the top bulls in the game – The Unicorn, Cazador & Hurricane headline the list of the bull power to be provided by 2018 BFO Stock Contractor of the Year, Rockin' B & Magnifica Fighting Bulls.
Bullfights are judged on a 100-point scale, with half the score coming from the bull and his willingness to stay in the fight. The other half comes from the bullfighter and his ability to maneuver around and jump over the bulls.
"Being able to fight in Ada means everything to me," Forsythe said. "My goal is to quit my real job to fight bulls full time, and this is the first big opportunity to make that step.
"I'm nervous. It's not just the atmosphere or the bulls. This is more of a make-it-or-break-it deal to me. I took my last two days of vacation to go to Ada and make this work."
FRIDAY'S CONTESTANTS
Kris Buffalo
Knox Dunn
Colt Oder
Ely Sharkey
Justin Ward
Dakota Knight
Miles Jones
Kane Livingston
Chase Blythe
Tanner Brantley
Tori Ozane
Tate Rhoads
Seth Wilson
Caden Harper
Tucker Lane
Brooks Forsythe