---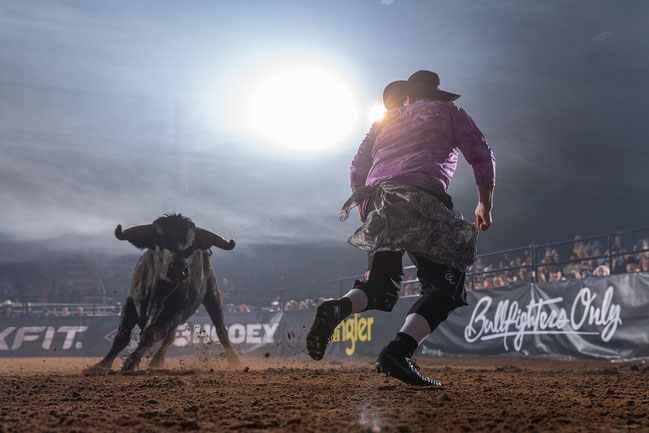 Three-peat Potential
Furr chasing his 3rd straight Reno Rodeo Wrangler Bullfight title
RENO, Nev. – Kris Furr doesn't want to believe there's a target on his back, but the paint may already be dry. 
Furr is the two-time reigning champion of the Wrangler Bullfight Tour stop at the prestigious Reno Rodeo, now celebrating its 100th year. He'll attempt to defend his titles against five other elite men from Bullfighters Only. The bouts are broadcast nightly on the Wrangler Network.
"I don't really know what it is about Reno, but it works for me," said Furr, the fourth-ranked man in the BFO Pendleton Whisky World Standings from Hamptonville, North Carolina. "The atmosphere always pumps me up. Plus, it's a hell of a long ways for me to come here and not do good." 
There is plenty of motivation for him and the others in the mix: three-time reigning world champion Weston Rutkowski, Toby Inman, Chance Moorman, Beau Schueth and Aaron Mercer, the No. 1 man in the standings. 
"I don't think there's a target, because I don't think the guys look at it like that," Furr said. "You're only as good as your next at-bat. Nobody cares about what I did last year; it's all about right now. Even for Mercer, who's been on a heater lately; it's a new day." 
Schueth, who made a big-time run at the BFO World Championship last year, returns to action for the first time since being injured in Ada, Oklahoma, two and a half months ago. He'd love to make his comeback on the winning side of things. 
"I'm pretty pumped up," said Schueth of O'Neill, Nebraska. "I've been waiting a long time to get back to freestyling. This is my first freestyle bullfight since the doctors cleared me to compete. 
"When I finally got cleared to work out, I started running and hitting the gym. I'm trying to get back into the shape I was before the injury." 
The BFO is a brutal game, with agile and aggressive Spanish fighting bulls eager to run the combatants over. That comes with the sport, and each man knows the dangers before them in Reno. 
"I've been away from the bullfights for about a month, and in my spare time, I've been working out, training and running," Furr said. "I've got to run five miles now just to get tired. I'm in the best shape of my life. I like to think I'm in better shape than I was the day before.
"You can still do good and lose. That's just part of being in the BFO. I try not to get discouraged if I don't finish first. I've been 89 points before and not won, because the competition is just that tough."
---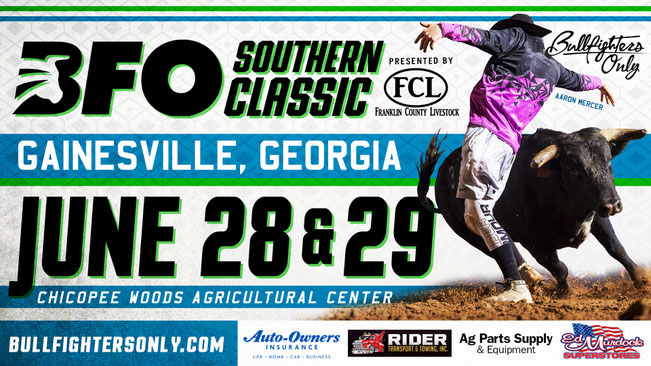 ---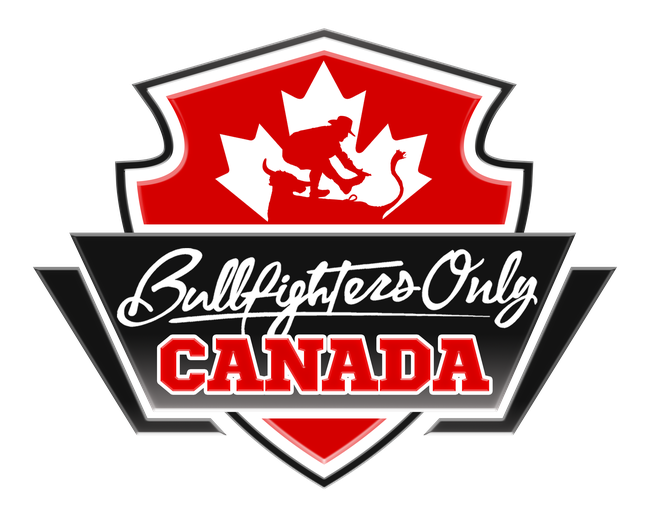 BFO BOOMING IN CANADA
Bullfighters Only, Alpha Bull increasing exposure of freestyle bullfighting
CALGARY, AB - BFO founder, Aaron Ferguson and Alpha Bull founder, Chad Besplug grew up just 45 minutes from one another in the foothills of Southern Alberta.
Their professional careers have followed eerily similar paths – Ferguson as a bullfighter, Besplug as a bull rider. Besplug is a two-time Canadian champion, and Ferguson was selected twice to fight bulls at the National Finals Rodeo. At the completion of their rodeo careers in 2015, both were at the top of their game.
Now, they have proven that their unique abilities translate outside of the arena as well. Ferguson's Bullfighters Only and Besplug's Alpha Bull are known for producing world-class events, and they've teamed up for four consecutive years to bring bullfighting to Canadian fans. 
"We grew up in the same part of Alberta, but didn't really know each other that well until we founded our companies," said Ferguson. "Using Chad's events as a platform, we put our efforts together to bring freestyle bullfighting up to Canada. It's growing fast and producing some great athletes."
Proof comes via Aaron Mercer, the first ever Canadian to occupy the No. 1 spot in the BFO Pendleton Whisky World Standings. He got his start through BFO Canada competitions and has been dominating events across North America, with four wins and two runner-up finishes in the last month and a half.
"It's insane that he's gotten to the top so fast and great to have a Canadian on top of the standings," Besplug said. "He was virtually unknown at this time last year. I've watched the top guys and gotten to be friends with some of those guys. What has impressed me is how hard they work."
BFO and Alpha Bull have produced over a dozen events so far, and the growth continues to be rapid. That's a good thing for Canadian bullfighters and even U.S. stars willing to test their skills north of the border.
"Freestyle bullfighting is a whole new avenue for fans and athletes in Canada," said Weston Rutkowski, the three-time reigning BFO world champion. "It brings a different excitement to the events. Chad puts on great events, and they're very entertaining from the get-go."
The only downfall has been the lack of quality fighting bull contractors in Canada. That's why Alpha Bull and Bullfighters Only have reached out to Oregon stock contractor Trevor Hamsher to haul his top-flight animals to BFO Canada events.
"With this change, fans will get to experience the level of excitement that has become synonymous with the BFO," Ferguson said. "Bringing in an experienced contractor with quality bulls is imperative to the sport's continued growth as it allows the athletes to showcase their true capabilities."
Fans are pushing for the market to expand, which is why Besplug and Ferguson are working together to make it happen. More events are already on the 2019 schedule than ever before, and both Alpha Bull and the BFO are looking to increase that again next year.
"As a pure man-vs.-beast sport, it's tough to compare it to anything else. The excitement is insane," Besplug said. "I've seen lots of bad wrecks and lots of action in bull riding, but watching someone like Weston going against the best bulls in the world just puts you on the edge of your seat, and it's pretty intense."
BFO and Alpha Bull will be a major aspect of the Calgary Stampede's Bulls After Dark, which will take place Friday, July 12-Saturday, July 13, at the Nutrien Western Events Centre at the Calgary Stampede.
---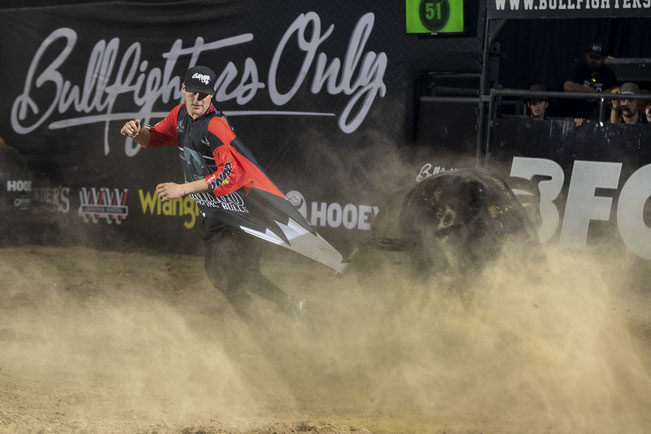 Mercer takes No. 1 spot
Canadian earns win in home country to move atop BFO money list
Aaron Mercer is normally the talkative type, but news that his victory last weekend at the Bullfighters Only stop in Moose Jaw, Saskatchewan, has pushed him to No. 1 in the BFO Pendleton Whisky World Standings has left the Canadian a bit tongue-tied.
"It's surreal; it's cool," said Mercer of Calgary, Alberta. "I didn't think that would be the one to push me over the top, but, damn, it sure did. I didn't even look at the standings. A friend of mine from back home sent me a screen shot, and I thought, 'What the heck is going on here?' "
What's going on is a hot streak that's extended for more than a month. In addition to the title in Moose Jaw, he has victories in Las Vegas; Redding, California; and Charlotte, North Carolina; Mercer also finished second at stand alone events in Kennewick, Washington, and Woodward, Oklahoma.
"I think he's doing so well because he's taking each bull one at a time," said Colt Oder, a friend and fellow bullfighter from Moorpark, California. "He's transitioned into the sport from bronc riding and other stuff. He's still wide-eyed about it and just has pure joy. It's cool to see. He's excited about every bull he fights.
"He brings a lot of good energy to the tribe."
That tribe is a tight-knit band of bullfighters who serve as each other's biggest supporters when they're not in the ring themselves. Now Mercer is atop that group with $23,250 in earnings. He owns a lead of just $600 over veteran Toby Inman of Davis Junction, Illinois.
Mercer's lead is nearly $5,000 over the No. 3 man, three-time reigning world champion Weston Rutkowski of Haskell, Texas.
"It feels crazy to be ahead of those guys," Mercer said. "I've got to keep fighting my bulls."
Now that he's atop the heap, he wears a target on his back. His goal is to keep building on his lead and push that target as far away from the field as possible before the season finale, the Las Vegas Championship, set for December at the Tropicana Las Vegas.
"I've got to hammer down," he said. "The win in Moose Jaw was cool because I like those Alpha Bull events (produced in Canada). I wasn't really happy with the way I fought there, but a win's a win; I'll take it.
"I still have a lot to work on. Now that I'm No. 1, I've just got to work harder than ever. If I don't do that, I'm not going to be staying on top."
---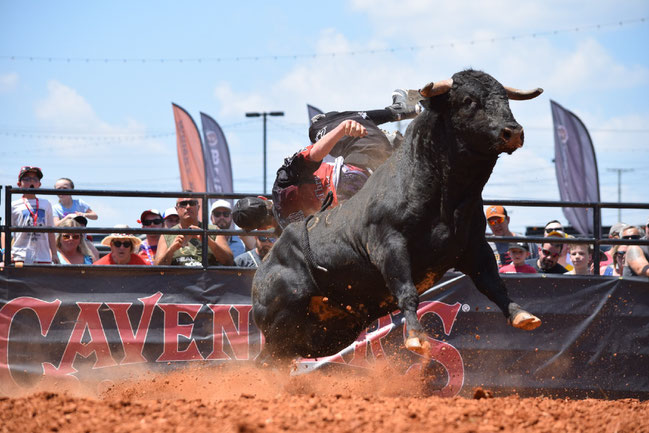 Mercer wins in Charlotte
Canadian overcomes hot bulls and hot weather for third BFO victory
CHARLOTTE, N.C. – Aaron Mercer was hot this past Sunday during the Bullfighters Only Speedway Series event at the Charlotte Motor Speedway. The event was part of the race-day experience at the NASCAR Coca-Cola 600.
As sweat poured from his body, Mercer mustered up enough willpower to win the title, pocket $6,500 and move to No. 2 in the BFO Pendleton Whisky World Standings.
"It was crazy, and it was electric. The crowd was just awesome, and the bulls were sweet. It was so cool to be part of the NASCAR race," said Mercer of Calgary, Alberta. "The experience was just amazing, and to get the win was even better."
The average May temperature in Calgary is 61 degrees Fahrenheit, or 16 degrees Celsius. The temperature in Charlotte on Sunday was 93 with humidity at 63 percent adding to the heat index. That's sweltering for any athlete, much less one from the drier climate in Alberta.
"I've never been so warm in all my life, and I've never been so tired after a bullfight," he said. "It wasn't just hot, but it was humid, and that added to it. When it's 95 degrees Fahrenheit in Canada, we're hot, but we don't have that kind of humidity."
It was an amazing finish to an incredible month for Mercer, who had titles earlier in May in Las Vegas and Redding, California. He also had second-place finishes at stand-alone BFO events in Woodward, Oklahoma, and Kennewick, Washington. He's earned $20,024 this season - virtually all has come in the first 26 days of the month.
"I honestly don't know what to say about doing this good my first year in the BFO," said Mercer, who trails leader Toby Inman by $2,626 heading into the summer run. "I've been hanging out with guys that I've been fans of for a while, and now I've become friends with them."
He's proven that he belongs. Mercer won his round in Charlotte with an 86-point bout to earn his spot in the Hooey Championship Round along with Justin Josey of Apache, Oklahoma, and Chase Blythe of Concord, North Carolina. In the finale, Mercer tangled with the Chad Ellison bull Eighteen & Life.
The spotted bull was aggressive, but Mercer countered with some nice back fakes. Eighteen & Life got in a few jabs throughout the bout, but the end result was an event-winning 80.5-point fight.
"Now I've just got to keep pushing to the top," he said. "I've got some momentum, and I've been doing some things outside the arena to help. I'm going to the gym and working hard. That's what you've got to do if you want to be the best of the best."
That's the thing about being part of the BFO, the premier organization in freestyle bullfighting and the driving force behind the sport's recent growth. The Speedway Series is just another example of how popular it has become.
"Sitting on the fence during the bullfight, the people in the crowd want to interact with you and talk to you," Mercer said. "It's cool that they want to be involved, have that kind of support and have people looking up to you.
"You don't choose to be a role model, but it just happens. I never really expected it, but having it all blow up like this is really something."
---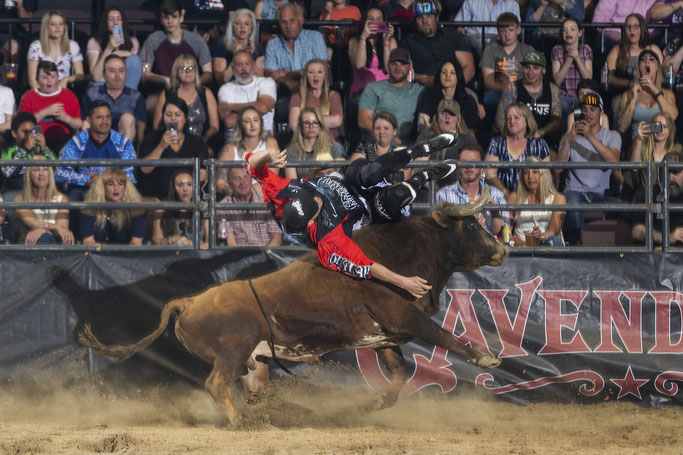 Mercer off to a fast start
Canadian sits 4th in BFO heading into Charlotte Motor Speedway event
CHARLOTTE, N.C. –  Exactly one-year ago, Aaron Mercer stepped into the freestyle bullfighting arena for the first time ever.
Now, he is the No. 4-ranked man in the Bullfighters Only Pendleton Whisky World Standings and has proven to be a quick study of the sport. Since the first of May, he has two wins (in Las Vegas, NV & Redding, CA) and two second-place finishes (in Woodward, OK, and Kennewick, WA).
"A lot of people say if you don't win, you're the first loser, but I don't look at it that way," said Mercer, 26, of Calgary, Alberta. "This is so new to me, making short rounds at these deals is crazy for me.
"I had only stepped around nine fighting bulls when I went down to the (United) States. I'd been watching guys on videos … Justin Josey, Toby Inman and Colt Oder, and those guys are so rank. To be able to make the short round with them is just crazy. I never thought I'd be doing it."
Mercer has pocketed more than $13,500 to assume his spot among the top five bullfighters in the BFO. He will have that momentum with him when he competes at Charlotte Motor Speedway as BFO joins the race-day experience for the Coco-Cola 600 on Sunday, May 26.
"Winning Redding or finishing second at Woodward and Kennewick is cool, and you want to keep that streak going," Mercer said. "My confidence is high. Every time I step out in the arena, my brain is working so fast and my mind is going 100 miles per hour, and I'm like, 'What am I doing here?'"
Charlotte is the second stop of the 2019 BFO Speedway Series, with five more events slated for later this season - all set up around major NASCAR races. This weekend marks the BFO's second stop in Charlotte in eight months; the first event took place last September at the Charlotte Motor Speedway's ROVAL 400 and was a big hit among NASCAR fans.
"I'm excited for it. It's going to be different for me, but I'm ready to go tear one up." Mercer said.
BFO's menagerie is a new experience for the rookie bullfighter, but each step-through and flip over a charging bull seems to progress the talented Calgarian. That's why he will be a threat during Sunday's nine-man bullfight, which features 9 fighters battling to advance to the Hooey Championship Round.
"Freestyle bullfighting is a game of life and death, a game of inches and a game of deception," Mercer said. "I seem to learn pretty good when I get thrown into something new and different. I'm not out of the woods yet, but I think I'm on my way.
"I thought I had a limit, and I think I can go over it. I've been able to push myself further than I ever thought I would. You've got to test your limits or you're not going to go very far in this industry."
He also understands what it means to be an Albertan at the top of the heap. Canadians have a special sense of patriotism when it comes to competition, especially when they're battling for world championships.
Through just the first few months of the season, Mercer has placed himself in contention for the 2019 crown.
"I've got Canada backing me up," Mercer said. "All eyes are on me, and I'm OK with that."
CONTESTANTS
Tucker Lane
Brooks Forsythe
Aaron Mercer
Toby Inman
Riley McKettrick
Justin Josey
Brandon Moore
Weston Rutkowski
Chase Blythe
---
BFO RETURNS TO NORTHWEST OKLAHOMA
Woodward, Okla. - In a stadium that looks fit to have hosted games during the times of the Roman Empire, fifteen men will step into the arena and attempt to survive against one of the most aggressive animals on the planet.
For the second year, Bullfighters Only will play host to the world's top freestyle bullfighters in front of the majestic grandstands of Crystal Beach Stadium on May 4th at 7:30pm.
Freestyle bullfighting, a sport in which bullfighters have 60 seconds in the ring and are judged on their ability to engage and maneuver around a Spanish fighting bull with the goal of performing the best tricks and maintaining the best style around the bull as possible, has all of the excitement of a traditional western sports event but, with that little something extra.
"It's a rock and roll show with the meanest animal there is running around on stage knocking over drums, guitar amps, and anything or anyone that gets in his way." says Andy North the BFO Barrelman who hails from Piedmont, OK. "The bullfighters of the BFO are the best in the World and they have to be because these bulls don't leave any room for error."
Speaking of the animals, the Spanish fighting bulls that will be in Woodward are the same breed of bulls that have been used for thousands of years in bullfighting rings across Europe and Latin America. But the bulls of the BFO are not killed or harmed in any way. They simply have one mission, and that is to fight.
Toby Inman who sits atop the Pendleton Whisky World Standings after a big $12,000 win two weeks ago in Ada, OK is looking to further extend his lead against the rest of the pack with back-to-back wins in the Sooner state. He knows better than anyone, how aggressive and how dangerous these bulls can be.
"Last year, I ended up going to the hospital after my fight in the long round in Woodward." says Inman, who is currently the oldest active bullfighter in the BFO at 36. "We're gonna try to keep that from happening again this year."
Bullfighters Only was created 4 years ago to promote the sport of freestyle bullfighting with an exponentially growing fanbase. In the past 4 years, BFO has paid out over $1,000,000 to bullfighters and has successfully produced the largest-scale events that the sport has ever seen across 25 different states and counting. It's safe to say that the BFO is bringing a one of a kind, family-friendly show to Woodward that you do not want to miss.
Tickets for the show start at $22 for General Admission Grandstand seats and $14 for Children(ages 2-12). VIP Tickets are available for $35 and come with a pre-show VIP Party where they get to meet and greet the bullfighters of the BFO before the show.
Tickets are available online at www.showclix.com.
Roster:
Aaron Mercer - Lemont, AB, CAN
Chance Moorman - Lytle, TX
Colt Carlisle - San Saba, TX
Colt Oder - Moorpark, CA
Dayton Spiel - Parade, SD
Dylan Idleman - Madill, OK
Justin Josey - Apache, OK
Kris Furr - Hamptonville, NC
Riley McKettrick - Arcadia, FL
Seth Wilson - Jackson, WY
Tanner Zarnetski - Texarkana, TX
Toby Inman - Davis Junction, IL
Tucker Lane - Oak Grove, MO
Weston Rutkowski - Haskell, TX
Zach Flatt - Fittstown, OK
---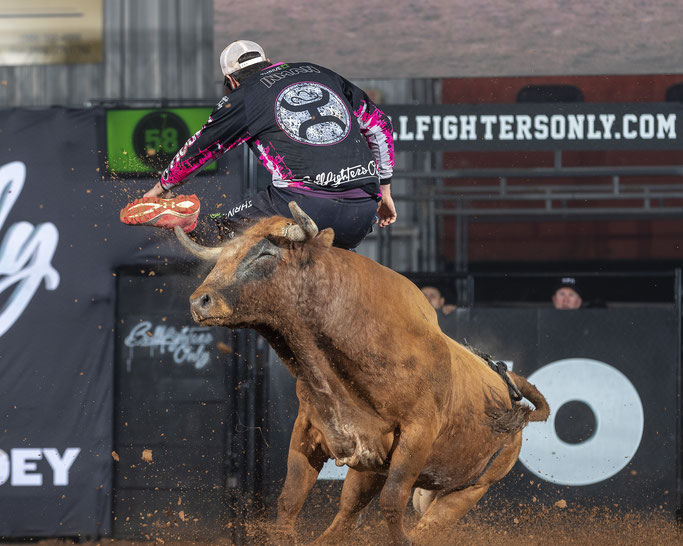 Inman repeats as Ada champ
Bullfighting veteran moves to No. 1 after victory at the BFO Ada Invitational
ADA, Okla. – Toby Inman is well aware of the danger that comes with freestyle bullfighting.
He loves it nonetheless. Over this past weekend, Inman proved his old-school methods of combating ferocious, Spanish fighting bulls still works. For the second straight year, he earned the championship at the Bullfighters Only Ada Invitational at the Pontotoc County Agri-Plex.
"There's a lot of history with bullfighting in Ada," said Inman, 36, of Davis Junction, Illinois. "Ada's old school. That fits me pretty well."
He put together two solid bullfights on Saturday night. In his first-round match, he outlasted two young guns, Chance Moorman and Trenton Ross, to advance to the Hooey Championship Round. That's when he put on a show that only Inman can, starting off with a jump, then making rounds and utilizing back fakes to keep the bull just a half step away.
"It's nice to be in good enough shape that you can do it, and I think that had a little bit to do with it," said Inman, who pocketed $12,000 for the victory and moved to No. 1 in the Pendleton Whisky World Standings. "You never really know the key to success because that key doesn't always repeat itself."
Nonetheless, he posted an event-high 87-point bout to win the championship, fending off Tucker Lane, Colt Oder and Seth Wilson along with veteran and BFO Pioneer Beau Schueth. Also for the second straight year, Oder finished second at the Ada Invitational. Only Inman, Oder and Lane finished their bouts; neither Schueth nor Wilson was able to last.
That's just proof of the test the bullfighters put themselves through while competing for unprecedented money in the BFO.
"The bulls are always going to be tough in the short round of a BFO event," Inman said. "Some guys are able to handle them, and sometimes you just get caught. I've been there. You can have it won in the first 15 seconds, then the bull catches you and you're done.
"You have to treat every bull like a new bull. I try to have that mentality all the time."
Wilson first stepped into the BFO arena 16 months ago at the Las Vegas Championship after a strong showing at BFO's first Development Camp. He was 17 years old and earned big points while testing his talents alongside the greatest bullfighters in the game.
Now 19, he returned to the BFO in Ada as one of fifteen men who competed Friday night in the Qualifier Round. The event featured five three-man bullfights, with the round winners advancing to Saturday night. Wilson was one of the five to advance to the championship.
"That definitely made me feel good," said Wilson of Jackson Hole, Wyoming. "Ever since my first Vegas event, I haven't made it out of a Qualifier Round. To get that out of the way was great.
"Winning my round on Saturday was a big confidence-booster. I've been going through the events knowing that I can, but it hasn't worked out. To finally put some bullfights together and show that I can do it helped me out a bunch. That helped me keep my head on straight."
The weekend prior, he suffered a leg injury. Though he had done well on his first two bulls in Ada, the leg took another shot.
"It was a little sore, then in the short round, I didn't get out of the way on one of my fakes, and he caught me and hit that leg again," he said. "It makes me want to kick myself for not being able to finish, but at the same time, I would've just gotten hooked and maybe hurt worse if I'd tried to keep going."
Still, he proved a point to himself and his fellow bullfighters. He was a winner two of the three times he entered the ring, and he's already looking forward to his next opportunity with the BFO.
"I think it's a blessing, everything the BFO can do for a guy," Wilson said. "It's an incredible way to get your name out. They show who you are as a bullfighter, and the opportunities they can lead you to are almost endless. The BFO is pretty incredible."
---
BFO rookies and vets showdown in Ada
Former Marine will join the battle at Bullfighters Only Ada Invitational
ADA, Oklahoma – Ben Walton is no stranger to danger.
As a United States Marine, Walton saw plenty of action during four tours of duty to Afghanistan and Iraq. He served 10 years in harm's way and knows exactly what it takes to stand against the enemy.
Now, he'll face a different type of foe: the Spanish fighting bull. Walton is one of twenty-five men set to compete during the 3rd annual Bullfighters Only Ada Invitational, set for 7:30 p.m. on Friday and Saturday at the Pontotoc County Agri-Plex.
"There are a lot of similarities as far as mindset in warfare and in bullfighting," said Walton, 35 of Amherst, Virginia. "You have to have this never-say-die mentality. You have to fight your way out of situations.
Fifteen athletes are set to compete in Friday's Qualifier Round, with only five advancing to Saturday to compete against the top ten bullfighters in the BFO. The top score in Saturday's Hooey Championship Round will be crowned the Ada Invitational champion and will earn the lion's share of the $30,000 purse.
Walton is one of several newcomers who are testing their skills for the first time in the BFO this weekend. In fact, he was invited to compete after an impressive showing at the BFO Development Camp this past weekend in Lavonia, Georgia.
"This is truly an honor," he said. "I'm very excited about this opportunity and very thankful for the BFO to allow me to be part of this. I will try to lay it all on the line and see what happens.
"I'm going to try a lot of things I just learned in D Camp, a lot of the moves Ross (Hill) showed me. I'll see if I can string a few of those together and get through Friday. If Saturday comes, I'll make the most of it."
Hill is a BFO Pioneer who has helped in returning freestyle bullfighting to the mainstream of Western sports. Besides being a key instructor at the Development Camps, he also is a contender for the world championship, having finished fifth in the Pendleton Whisky World Standings last season.
Walton isn't the only newcomer who will compete in Ada. Rowdy Moon is a 21-year-old bullfighter from Taylor, Nebraska, who hasn't competed in many freestyle events.
"I've only gone to one freestyle bullfight a year, so I haven't really been involved until now," Moon said. "It's the excitement that draws me to it. It's a good feeling when you can step around a bull."
He started bullfighting eight years ago, attending a bullfighting school in Nebraska that happened to be instructed by BFO's eventual founder and CEO, Aaron Ferguson.
"When Rowdy showed up, he was 13-years-old and couldn't have weighed 100 lbs. We were scared to let him fight but he was an absolute natural," Ferguson commented. "I'd been hearing great things about him ever since and then he was outstanding at D-Camp."  
It's all come full circle in a short amount of time for Moon, who was part of the Development Camp in Houston just two weeks ago. Now he's competing in his first BFO event, and the magnitude isn't lost on him.
"I learned a lot of stuff that I never picked up on," he said. "The camps are awesome, because it's a really cool environment. Everybody's feeding off each other's success. Everyone's really motivated, so they lift you up.
"I'm pretty excited to be part of the BFO this weekend. I'm a little nervous."
The feeling is natural; Moon is getting called straight to the Major Leagues. This will be something unlike he has ever seen.
"This is a big stage, a big bullfight," said BFO veteran Zach Flatt, 30, of Ada. "The fact that bullfights are back in Ada is a big deal. It's been a big thing around this part of the state for a long time. The people here love the bullfights and expect to see some wrecks, some cool lights, some good music and some really cool tricks."
Freestyle bullfighting is a true man-vs.-beast showcase of aggression, agility and flat-out unbelievable athletic maneuvers. Each bout lasts 60 seconds, and scores are based on a 100-point scale. Half of the score is determined by how well the bullfighter moves around and jumps over the animal. The Spanish fighting bull earns up to 50 points based his aggression and how well it stays engaged during the fight.
"I really feel like it's a great thing for these young guys," Flatt said. "I like seeing all the turnout they're getting at the D Camps. There are a lot of guys that are wanting to fight bulls and the BFO has done nothing but grow. It's good to see."
Walton has seen it from afar. Now he's in the middle of it and is already anticipating the feeling he will get this weekend.
"I think the BFO is an awesome organization," said Walton, who also helps on his family's ranch in western Virginia. "I think the mentality of the guys is such a brotherhood. They're competing against one another, but there's a lot of camaraderie there. I saw it in a lot of the guys and the instructors.
"They also have nothing but respect for the animals. It's just a professional organization, and probably the most exciting in Western sports. I think freestyle bullfighting is very successful because it's such a big challenge between man and animal."  
---
Furr wins Rodeo Scottsdale BFO
SCOTTSDALE, Ariz. – Top three finishes in the first three events of his Bullfighters Only season weren't enough for Kris Furr, so he did something about it this past weekend at Rodeo Scottsdale.
Furr outlasted a talented field of eight bullfighters to win the Wrangler Bullfight Tour stop. Furr made his way to Saturday's Hooey Championship Round with a second-place finish on the first day of the rodeo and bullfights, joining round winner Zach Flatt of Fittstown, Oklahoma.
"I thought it was a great event, and I think the people there love to watch it," said Furr of Hamptonville, North Carolina. "After Scottsdale's rodeo last year and the Barrett-Jackson Auction (in January), I think we're starting to get a pretty big following in Arizona."
Furr and Flatt were joined in the final round by Beau Schueth of O'Neill, Nebraska, and Chance Moorman of Lytle, Texas; Schueth won the second round with an event high 84-point bout, and Moorman was 80 points.
Once in the Championship Round, it was a tight battle between the four combatants. Furr eventually took the title with an 80-point fight, with Moorman finishing as the runner-up just one point behind.
"This was a huge win," Furr said. "I've been consistent in the four events I've been to, but I've been second twice and third once, so I was dying for a win."
With the victory he picks up $4,500, which boosts him to No. 2 in the Pendleton Whisky World Standings with $14,000. He is just $3,250 behind the leader, three-time reigning world champion Weston Rutkowski.
"This was a little bit of a different format where two guys advanced out of the rounds," Furr said. "It was nice, because usually there's a lot of pressure that you have to win. When you have that pressure, you put yourself at more risk. You're usually putting it all out there on the first bull.
"This event allowed you to play it smart and slip into the short round. It lets you have a better chance and lets you breathe a little more going into it."  
As with anything he does, the North Carolinian gained some valuable lessons while competing in Arizona this past weekend. Though his confidence remains rock solid, he saw some things in his own fights that could allow him to improve as he moves forward.
"What I took away from there were a couple of learning points," he said. "I think everything I did in the short round was correct, but there was a lot more I could have done to add to it. Even though I won, I feel like I learned a lot."
Each step of the way is a process, and he's reminded of that every day. In addition to the rigors of the competition, Furr puts his body through a tremendous test regularly to make sure he's in the best physical condition when it comes time to face the beast.
"It's like any other sport; you lift a lot of weights to keep your body used to being under that kind of stress," said Furr, who spends a great deal of time in Decatur, Texas, so he can utilize the training facilities at Fit-N-Wise, an athletic training and sports medicine operation. "A lot of the speed drills and agility drills I do help keep the crispness and the snappiness I have.
"If you look at me and Weston, we've got our meals lined out; we know what we're taking in. A lot of guys can copy what you do as a bullfighter, but it's hard to copy what you don't see outside the arena."
That's an edge Furr plans to keep.
RESULTS
Round 1: 1. Zach Flatt, 76 points; 2. Kris Furr, 75; 3. Weston Rutkowski, 69; 4. Tucker Lane, no score.
Round 2: 1. Beau Schueth, 84 points; 2. Chance Moorman, 80; 3. Scrawney Brooks, 79; 4. Colt Oder, 76.
Hooey Championship Round: 1. Kris Furr, 80 points; 2. Chance Moorman, 79; 3. Beau Schueth, 77; 4. Zach Flatt, 74.
---
Texans earn victories
Rutkowski wins San Antonio; Moorman claims Speedway Series title in Atlanta
LAS VEGAS - Between them, Weston Rutkowski and Chance Moorman made a combined $17,500 at Bullfighters Only events over the past weekend.
It was a busy week for the BFO, with the sport's richest one-day bullfight taking place Saturday afternoon in conjunction with the San Antonio Stock Show and Rodeo; it was followed by the season's first Speedway Series event less than a day later at Atlanta Motor Speedway in conjunction with the QuikTrip 500 NASCAR race. In all, over $35,000 was paid off at the two major stops.
"You can't put into words what it means to be in front of 17,000-plus fans in San Antonio," said Rutkowski, who won the Wrangler Bullfight Tour stop and pocketed $12,500. "Now we're packing out arenas like that, and the people know the BFO. It's definitely surreal."
That's because he's been a part of freestyle's premier organization's growth from the ground up. Not only is he the three-time world champion, he also is one of the original BFO pioneers; a group of fifteen bullfighters who fought exclusively for BFO over the last three years.
Moorman, on the other hand, is just nine months removed from his high school graduation and first BFO Development Camp.
At 18, he's definitely a rising star in the game and proved it in Atlanta, posting a 90-point fight in the championship round to win the title in dominant fashion.
"The bulls we had there were a ton of fun," said Moorman, who earned $5,000 for his victory.
"The key was just to stay calm and collected. I let the bull do what he does; try to kill me. But I kept going at him."
He won his first-round bracket with an 87.5-point fight to advance to the finals, where he faced Rutkowski and Kris Furr of Hamptonville, North Carolina. That's when he put together one of the strongest bullfights of the 2019 season, starting off with his signature move, a front flip over the bull from horns to tail.
"That was probably the loudest they got all day," Moorman said of the crowd. "We had a lot of rain, and guys weren't too sure of the footing but I just decided to do that trick right out of the gate."
It paid off. He stayed smooth and in control of the red bull for the initial 40 second period, then added another jump to finish off the fight. Moorman's 90 point score was the highest score of the entire weekend and it's his second 90-plus point fight in only three events.
"When you're in a fight like that, it just feels like slow motion," said Moorman of Lytle, Texas. "With that red bull, it just felt super slow. I could drape my hand over him as he just went by. It was great."
Rutkowski, one of four men who competed at both events, has been impressed with what he's seen in the teenager.
"Chance is dangerous," he said. "He's a young kid with a bright future ahead of him.  He's got a lot of talent, and he reads bulls well. For a young guy, he's very seasoned. To watch as a fan, he's got the total package.
"He can jump out of the arena, and he's going to be a contender for this season and a lot of years to come."
Rutkowski knows a bit about the game. He is the three-time champion of the BFO, and his earnings over the weekend moved him to the No. 1 spot in the Pendleton Whisky World Standings. His win in the Alamo City was a key reason behind it.
"It's pretty easy to get excited when you're in the middle of AT&T Center," said Rutkowski of Haskell, Texas. "The atmosphere in there is just incredible. All you have to do is feel that energy, and you're going to get excited.
"The money that San Antonio puts up is second to none. It's a testament to what the BFO has done for freestyle bullfighters like myself."
He was joined in the field at both events by Furr, Colt Oder and Tucker Lane, and they all boarded the same flight on Saturday evening to make sure they arrived together in Atlanta. Furr placed second in both states.
"The beautiful thing about the BFO is you're up against the best guys in the world," Rutkowski said. "You've got guys like Kris Furr there, so you know if you stub your toe, they're going to beat you."
---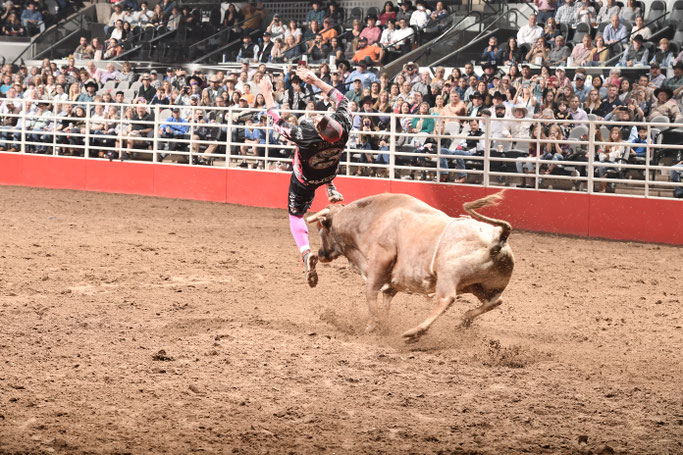 BFO STORMS ALAMO CITY
Top freestyle bullfighters to battle for sport's biggest one-day purse
SAN ANTONIO, TEXAS – When Toby Inman walked down the tunnel into the AT&T Center a year ago, he marveled at the surroundings associated with the legendary San Antonio Stock Show & Rodeo.
"I really didn't know what to expect," said Inman, the reigning BFO San Antonio Wrangler Bullfight Champion from Davis Junction, Illinois. "It was a crazy atmosphere, so it was easy to get pumped up to do big tricks in front of a crowd like that."
The Wrangler Bullfights return to this year's San Antonio Xtreme Bulls event, set for 1 p.m. on Saturday, Feb. 23. Inman is one of six elite bullfighters vying for the richest one-day paycheck in the sport; the San Antonio Rodeo is offering a $25,000 purse.
"It's exciting for me just to be part of it," said Weston Rutkowski, the three-time Bullfighters Only World Champion. He will be joined by fellow veterans Inman, Kris Furr and Ross Hill – and a couple of newcomers in Tucker Lane and Colt Oder. "There are only six of us invited to go; that means a lot in itself.
"To compete for the amount of money that's there is incredible. I'm very grateful for the opportunity."
Rutkowski earned his spot, as did the other five men in the mix. The San Antonio BFO event is part of the prestigious Wrangler Bullfight Tour, which was developed decades ago and re-invigorated by the BFO. To qualify for the event, bullfighters had to finish inside the top 6 in the 2018 Pendleton Whisky World Standings.
"I feel extremely lucky to be part of this event," said Tucker Lane of Oak Grove, Missouri. "Everything's been a giant step-up to me, with Ada (Oklahoma) being my first big deal, and that was a huge crowd.
"I can't wait to be in an arena like that, because it has so much history, and being in the field with the top guys in the world after being on tour for just a few months."
That's the reality of BFO, which only features the greatest athletes in the game. Lane worked his way up the standings through the rigors of the 2018 season and finished the campaign higher than expected in the Pendleton Whisky World Standings.  
"These young cats have proven themselves and they are worthy of competing for money like this," Rutkowski said. "This will be a cool event for them. Then you've got us veterans, and we're going to have our hands full. Just because we've been there and done that doesn't mean these kids will bow down."
That just adds to the drama that is freestyle bullfighting, but the action is what keeps fans on the edges of their seats. Bullfighters Only features the best bulls in the game, and San Antonio will be a true test with Rockin' B & Magnifica providing the livestock.
"I know it's going to be a great show, because nobody is going to hold anything back," Lane said. "It's definitely going to be exciting."  
CONTESTANTS
Weston Rutkowski
Toby Inman
Kris Furr
Ross Hill
Tucker Lane
Colt Oder
TICKETS: https://bit.ly/2GrJYg3
---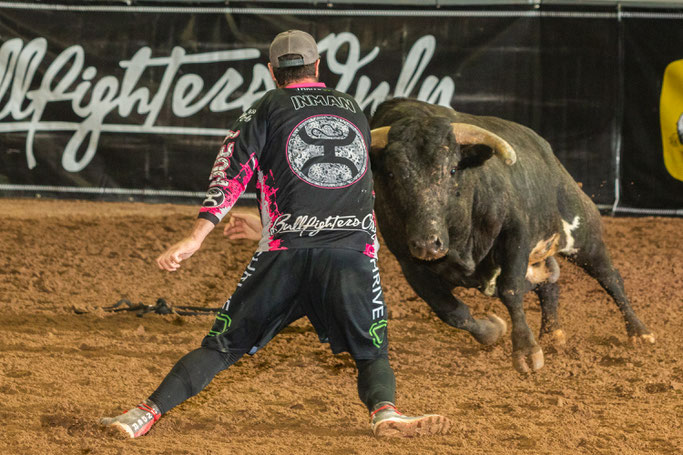 Inman Outlasts
BFO veteran takes top prize at Barrett-Jackson Invitational, wows new fans
SCOTTSDALE, Ariz. – When Toby Inman looked to his right, he saw a young man half his age.
Inman is a veteran freestyle bullfighter, and Chance Moorman is less than a year into his career. Both were in the mix for the championship during the Bullfighters Only Barrett-Jackson Invitational this past weekend at Barrett-Jackson's famed Scottsdale Auction.
"I joked around with him that he wasn't supposed to be this good already," Inman said of Moorman, just 18 years old from Lytle, Texas. "But he is, and he just goes out there and does it. It's a good thing, and it shows it's not just the veterans stepping up and doing some tricks."
That's true, but the veteran Inman walked away from Scottsdale with the victory and the $10,000 top prize to take the early lead in the 2019 Bullfighters Only Pendleton Whisky World Standings. He finished with a three-fight cumulative score of 259 points, just half a point better than Moorman.
"I was actually thinking about taking January off when I found out about this event," said Inman of Davis Junction, I'll. "Coming off Vegas, I was sore and out of shape.
"But this is a good start. Last year, I got a good start, then I had injury after injury. It's actually hard to get in shape when things are going like that."
The Barrett-Jackson Invitational is new on the schedule, but it was a true showcase event. While Inman and Moorman took the top two spots, they were followed by three cagey veterans: Kris Furr, Ross Hill and three-time reigning world champion Weston Rutkowski.
Though he got the silver medal, Moorman may have been the biggest showman of the bunch. He won the second round with a 90.5-point bout, the highest of the three-round competition. He started it by landing a perfect front flip over the bull, clearing the animal from head to tail.
"That second round was probably the best day of my life," Moorman said. "I've been close before, but I've never been able to break that 90-point barrier. I landed the cleanest front flip I've ever done. That was awesome.
"I fought to the best of my ability and did the best that I could."
Maybe the highlight was when the three-time world champion took a light-hearted approach with Moorman's father.
"Weston went up to my dad at the end of the event and told him that it's too early in the year for me to be doing stuff like that," Moorman said. "That's a big confidence booster to me, to have my idol say something like that."
By winning the title, Inman pocketed $10,000, Moorman earned $4,000, and Furr, a second-year pro from Hamptonville, N.C., scored $2,000. They are the top three in the Pendleton Whisky World Standings with one event under their belts.
"I need to stay consistent and put consistent fights on throughout the year. I want to keep doing what I'm doing and try to finish toward the top."Moorman said.
Inman knows that feeling. He's been one of the best freestyle bullfighters going for most of his career. In 2018, he led the BFO standings much of the season before injury caused him to fall behind and finish third overall.
Of course, kicking off the season with a big win in Scottsdale was just what the doctor ordered.
"I'm not a big car guy, but to see that auction in person was such an amazing thing," he said. "I'm pretty sure we've got a ton of new fans. That was a cool event to be part of, and I'm glad we got to be there to see that and for them to see what we do."
They not only saw some outstanding action from the veterans in the game, but they witnessed just what the rising stars can do, too.
"Chance is doing things that's going to make everybody step up, and so are the others," Inman said. "We have to have the new guys that can do that and keep it intense. That's better overall for the sport."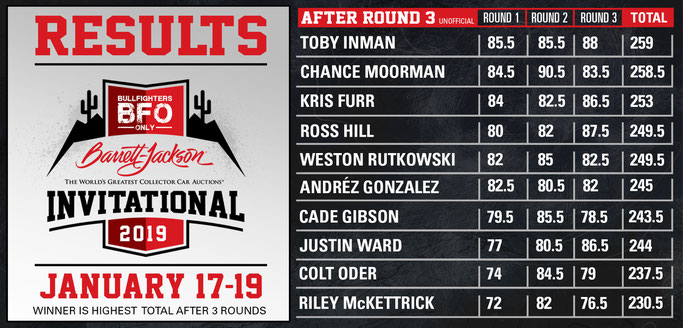 ---
BFO is raging in to 2019
Top bullfighters in  the mix at inaugural Barrett-Jackson Invitational
SCOTTSDALE, Ariz. – The pounding hooves of a Spanish fighting bull can sound like thunder. It can be breathtaking and devastating at a moment's notice.
This is the Bullfighters Only Barrett-Jackson Invitational, which takes place in conjunction with the famed Scottsdale Auction. The fiercest bulls and the most talented freestyle bullfighters in the game will match their skills together at 7:30 p.m. Thursday, Jan. 17-Saturday, Jan. 19, at the WestWorld Equidome in Scottsdale.
"The people in Scottsdale should expect to see the most action-packed sports show they've ever seen," said Weston Rutkowski, the three-time reigning world champion from Haskell, Texas. "You've got the best bulls and the best bullfighters in the country. When you put those two together, you're going to see the best show you've ever seen."
Rutkowski knows better than anyone the rough-and-tumble game that is freestyle bullfighting. He will be one of the combatants this weekend, and he's just a month removed from facial fractures he suffered during the Las Vegas Championship, the BFO's grand finale.
But there's so much more to the game than that. One minute, it's a ballet in the dirt, with the speedy and agile bull as the aggressor and the bullfighter utilizing dancer-like steps and leaps to counter every move; the next minute, it's a wreck, with the dangerous hooves and horns taking control of the match.
"This is going to be a show unlike any other," said Chance Moorman, one of several top bullfighters who finished their rookie seasons in the BFO in 2018. "The people love the adrenaline factor and the action that happens. You don't know what's going to happen when that bull breaks into the arena."
Add in the mix with the Barrett-Jackson Auction, and this will be a crossover event for the ages.
"I'm sure there are millions of dollars' worth of cars in that area," said Ross Hill, a veteran in the game who returned to action in July after suffering a devastating injury in two years ago. "To be around guys that their passion is cars and show them our passion is in bullfighting, that's going to be cool to see how they respond to the bullfights."  
Freestyle bullfighting has been around for nearly 40 years, but it was far from the mainstream sports scene for much of that time. It wasn't until the BFO resurrected the game that it has become a hotbed in extreme sports.
Since the BFO burst onto the scene in late 2015, nobody has been the epitome of that more than Rutkowski. He's the only world champion in Bullfighters Only's short history, but he's just leading the way for great things to come. That's happening in a hurry, and young men like Moorman are ready to take over the game.
Proof of that came in 2018. While a handful of crafty veterans held the top spots for much of the season, a group of young guns – led by a fearsome foursome of rookies that had come through the BFO Development Camps – proved their worthiness in the later stages of the campaign and into the championship in Las Vegas.
Oh, but it was a rugged test at the Tropicana Las Vegas, where every bullfighter that stepped into the ring was matched with an aggressive and powerful bull. It was a traditional Vegas prize fight, only this lasted 10 days. There were no Mike Tyson's in the pen with these men; they battled the equivalent of seven Tysons in weight class, and they fought with dangerous horns and pounding hooves.
"It feels great to be part of the BFO," Moorman said. "I've wanted to be part of freestyle bullfighting for years. Now, I'm finally able to do, and I'm in the premier league. I'm on top of the world just to be associated with these guys."
If 2018 was proof of anything, this season should be just as explosive with as many fireworks as possible. While Rutkowski dominated the 2016 and '17 seasons, he battled from behind most of last year before taking over the lead. Still, it came down to three men – Rutkowski, Beau Schueth and Toby Inman – to decide the world title.
"This is a great way to start off the new season," said Hill, a BFO pioneer from Muscle Shoals, Ala. "The bulls we'll face in Scottsdale are going to be young and fresh, and they'll be the type of bulls for everybody to showcase their talent.
"It'll be a good game-changer for everybody. I feel like everybody's had time to recuperate from Vegas. Everybody should be on a natural high, so I think it's going to be one of our better events."
---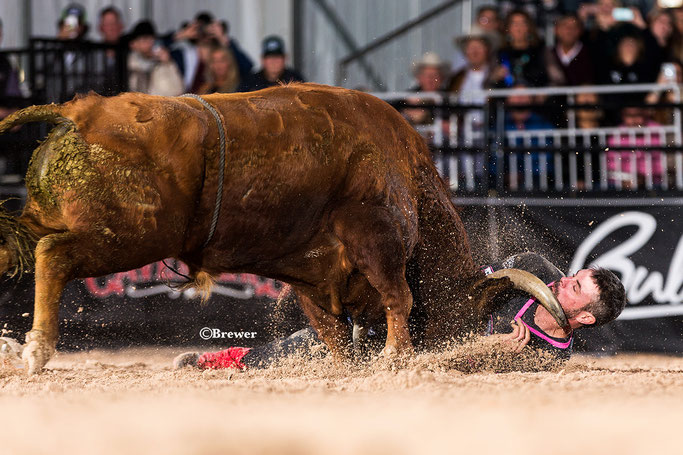 California contractor wins big
Costa, Sid Vicious earn end-of-the-season honors
LAS VEGAS – There were many great Spanish fighting bulls featured during the Bullfighters Only 2018 season, but none were better than the now two-time BFO Fighting Bull of the Year, Sid Vicious.
Aptly named, the small red bull has the perfect attitude for the battlefield. He's part of the notorious herd from Manuel Costa, who the bullfighters voted as the 2018 BFO Stock Contractor of the Year.
"I think it boiled down to the fact that Manuel has a solid number of bulls you could win on," said Weston Rutkowski, the reigning three-time world champion from Haskell, Texas. "This year, his were consistently a notch above. They were not only hard to fight, but they were also rewarding to fight.
"Sid Vicious is a bull that stands out and is in a league of his own. I was fortunate to fight him twice this year. The first time, he ended up getting the better of me in the end, but I got a few blows in first. I fought him in Vegas, and he just handed it to me."
He may be little, but he has longer horns than most bulls. Sid Vicious also was the BFO Bull of the Year in 2017.
"When guys get along with him, they're normally in the high 80s and 90s," said Beau Schueth, the reserve world champion from O'Neill, Neb. "He's got big horns and is fast, and he knows how to wheel around and hook guys. He follows you like a dog; he's always on your hip for the whole 40 to 60 seconds."
Costa has dozens of high-caliber bulls that are regularly featured at BFO events. Many were part of the Las Vegas Championship, which was the season-ending title bout for the top men in the sport.
"Manuel's got great bulls all around," Schueth said. "A lot of guys in the bull business go through him a little bit to find bulls. That says a lot about what he means to the sport."
Sid Vicious, though, stands out among Costa's bulls, which is why he got the unanimous nod from the fighters.
"He brings it every single time," Rutkowski said. "I don't think there was a guy that had a clean fight with him all year. That speaks for itself, because the talent in the BFO is second to none. To have that many good guys not get a clean fight out of him stands for itself."
Another factor is how many times the bull was fought.
"Even with a bunch of outs, he still fights lights out," Schueth said. "He still takes a fake, but you don't have too much time to wheel around. He is always right there."
---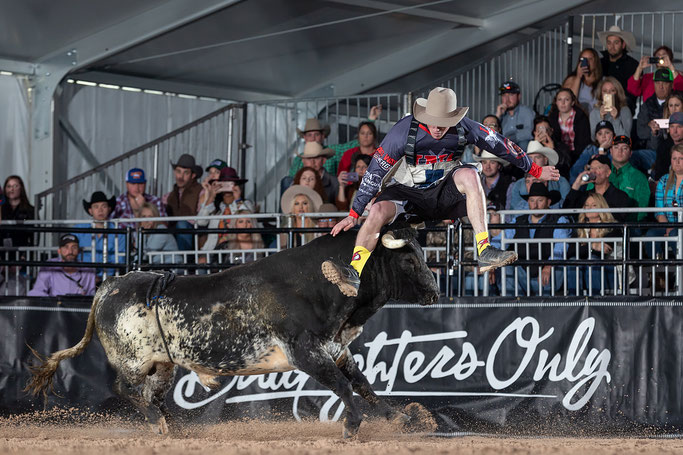 Ward named BFO Rookie of the Year
North Dakotan stands out among talented crop of rookies
LAS VEGAS, NV - Justin Ward of Richardton, N.D., outlasted a fierce group of Development Camp graduates and outsider talent to be named 2018 Bullfighters Only Rookie of the Year.
Ward was a standout at the BFO's Development Camp in San Bernardino, Calif. in April, and then burst onto the scene with a dominant win at the BFO Tri-Cities Invitational in May. He pocketed $10,000 in his first ever professional event.
"He almost made it look too easy," commented BFO Production Manager, Luke Kaufman. "It was the who's-who of bullfighting and no one was even mad they lost. Everyone was just excited about seeing a brand new superstar step out of the shadows."
With over $17,000 to his credit, he finished 2018 in 7th place in the Pendleton Whisky World Standings. Ward's stellar performance in the regular season earned him the right to compete in the Roughy Cup and have an automatic bid into the BFO Las Vegas Championship.
"This really means a lot to me because they took a lot of interest in me," Ward said. "I came to that D-Camp and showed up to play the game the way it was supposed to be played. Having Ross Hill coach me and then going up against Weston in Ada (Okla.) was pretty cool. It was definitely an eye-opener for me for sure."
He was rivaled for the honor by Chance Moorman of Lytle, Texas; Tucker Lane McWilliam of Oak Grove, Mo.; Andres Gonzalez of Woodland, Calif, and Cade Gibson of Pilot Point, Texas.
"The level of talent this year was truly impressive and it's a testament to the rapid growth of freestyle bullfighting," Kaufman said. "The older fighters understand the importance of helping out the younger athletes rather than hindering them."
"I think the D-Camps are crucial, because a lot of guys wouldn't get a chance without them," Ward said. "Just look at Chance Moorman, who was with me in San Bernardino. He is impressive."
They all were, but Ward came out on top and he got to play a starring role in the 2018 BFO Las Vegas Championship at the Tropicana Hotel and Casino.
"That was the biggest bullfight of my career," Ward said. "I got to go up against Weston in the Wild Card Round. Even though I didn't come out with a score, it was still one of the biggest thrills of my life."  
---
BFO partners with legendary Auction
Top freestyle bullfighters set to compete in first ever Barrett-Jackson Invitational
SCOTTSDALE, Ariz. – Bullfighters Only is teaming up with Barrett-Jackson Auctions to produce an unprecedented freestyle bullfighting event that will take place at the famed Scottsdale Auction, January 17-19.
"We are very excited to be a part of the legendary Barrett-Jackson Scottsdale Auction," said BFO's founder, Aaron Ferguson. "Presenting our sport to new audiences is what we are all about. The combination of Barrett-Jackson and BFO should prove to be the perfect fit."
"Barrett-Jackson has become more than just an auction, it is a lifestyle event" noted Craig Jackson CEO and chairman of Barrett-Jackson. "Our team strives to bring something new to the table every year and make the Barrett-Jackson experience even more incredible. We are happy to host Bullfighters Only as they compete in this truly unique and exciting western sport."
The Bullfighters Only Barrett-Jackson Invitational will feature the top athletes from BFO, showcasing their talents in the ultimate display of man-vs.-beast. The three-day showdown is a testament to each man's hardy courage, while facing down intensely angry Spanish fighting bulls.
Combatants have up to 60 seconds to gain as many points possible. With 100-points being the perfect score, bullfighters can earn up to 50 points by exhibiting style and control while maneuvering around, and jumping over the fighting bull. The bull, bred for this type of fight, can also tally up to 50 points for its speed, aggressiveness and willingness to stay engaged in the bout.
The competition begins at 7:30 p.m. each night at the WestWorld Equidome in Scottsdale and will be a great fit for fans who want to get their motors running in a different capacity.
Unlike traditional Latin bullfighting, the bulls in BFO's competition are at no disadvantage. Superstars like "Spitfire" and "Sid Vicious" weigh around 1,500 pounds and possess an aggressive and forceful nature that's been bred into them for over 1300 years.
Bullfighters Only is the premier freestyle bullfighting organization in the world, and having the top athletes on both sides of the equation is a key reason why. The Barrett Jackson Invitational will feature the greatest freestyle bullfighters in the game, including Weston Rutkowski, Beau Schueth, Toby Inman and Ross Hill. READ MORE...